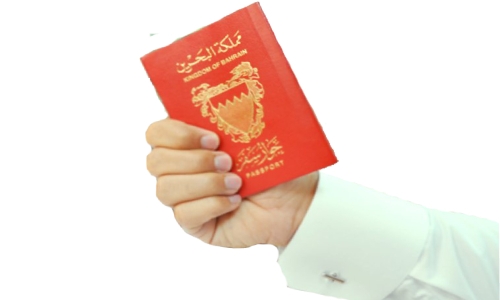 Bahrain's passport gains more power
TDT | Manama
The Daily Tribune – www.newsofbahrain.com
Bahrain's passport has improved its power on the latest Henley Passport Index ranking, even as COVID-19 and its new Omicron variant create havoc across the globe.
The passport now ranks 62nd on the Henley Passport Index, climbing seven positions from the 69th rank held last year.
The index includes 199 different passports and 227 different travel destinations.
However, in 2020, Bahraini passport held a much better position at 61, which went down again to 63rd in 2019.
In 2018, Bahrain was at 64th rank and in 2017 at 66th rank.
In 2006, when Henley started publishing the ranking, Bahrain held 59th rank.
Bahrainis currently have visa-free access to 84 destinations around the globe.
Bahrain added 46 places for its people to access visa-free since 2006.
The current rankings are for the first quarter of 2022.
Updated quarterly, the Henley Passport Index is considered the standard reference tool for global citizens and sovereign states when assessing where a passport ranks on the world mobility spectrum.
With historical data spanning 17 years, the Henley Passport Index is based on exclusive data from the International Air Transport Authority.
Saudi 65th Neighbouring Saudi Arabia takes 65th rank on the index with Belarus, Bolivia and Thailand.
Saudi Nationals have visa-free access to 79 destinations.
The passport of the United Arab Emirates enjoys a remarkable position at the top with 15th rank, the highest spot yet achieved for the Arab nation throughout the index's history, and a visa-free/visa-on-arrival score of 175.
Kuwait ranks 54th on the index, where its passport holders can access 95 destinations visa-free.
Oman passport holders are ranked 64th on the index, where they have access to 80 destinations visa-free.
Oman shares its rank with China.
Who is at the top?
Japan toppled Germany in 2017 to take the number one spot on the index and enjoys that prime position to date.
Japan also shares its number one spot with Singapore.
Japanese have access to 192 visa-free destinations.
Closely following are Singapore (1, 192), Germany (2, 190), South Korea (2, 190), Finland (3, 189) and Italy (3, 189).
The US and the UK passports have regained some of their previous strength after falling to 8th place in 2020 – the lowest spot held by either country in the index's 17-year history.
Both countries now sit in 6th place, with a visa-free/ visa-on-arrival score of 186.
A statement by Henley and Partners said that in 2006 an individual could, on average, visit 57 countries visa-free.
"Today, that number has risen to 107, but this overall increase marks a growing disparity between countries in the global north and those in the global south, with nationals from countries such as Sweden and the US able to visit more than 180 destinations visa-free, while passport holders from Angola, Cameroon, and Lao scan only enter about 50," the statement said.