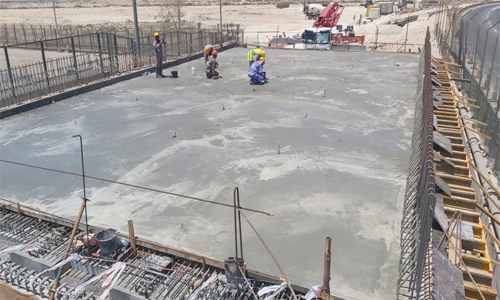 Sitra bridge development project in full swing
TDT | Manama
The Daily Tribune – www.newsofbahrain.com
The project to develop Bridge 17 on Umm Al-Saad Street, south of Sitra, has reached a 53 per cent completion.
The horizontal supports on the ready-made concrete and the construction of the side protection walls for the backfill have been completed.
This was confirmed by the Director of Roads Projects and Maintenance Department at the Ministry of Works, Municipalities Affairs and Urban Planning, Eng. Sayed Badr Alawi.
The project aims to replace the existing bridge with a new one. Two lanes in the new bridge in each direction are re-established with an emergency lane to enhance the level of traffic safety.
It currently depends on the heavy-duty iron pillars under the bridge that have been installed to support it due to its use by heavy vehicles that pass extensively on Umm Al Saad Street.
The project will include two phases. The first phase will be through the construction of one of the two bridges so that the traffic will be completely transferred to the newly built bridge, after the demolition of the old bridge.
The construction of the second bridge will be implemented in the second phase so that traffic in the area is not affected.
"A group of oil pipelines belonging to the Bahrain Petroleum Company (Bapco) passes under the bridge, and through it a group of high-voltage power cables, communication lines and other services that work to deliver service to companies and other facilities on the south of the street, which makes the process of constructing the two bridges an enduring process," said Eng. Alawi.
"There are many difficulties, especially since the project is accompanied by a project to develop and modernise the networks of the Bahrain Petroleum Company.
The ministry has developed a gradual construction plan so that work will begin on the western bridge towards the south and the transfer of services on it before the demolition of the current bridge and the construction of the eastern bridge towards the north."
The project was awarded by the Tender and Auctions Board to Messrs. Sayed Kazem Al Darazi & Sons Contracting Company with a total value of BD792,992