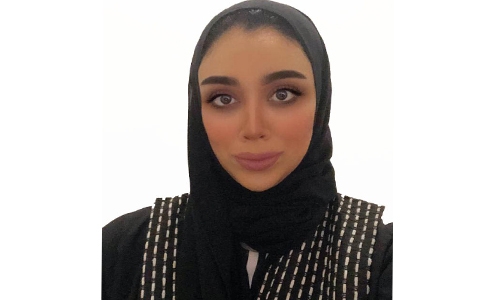 Young Bahraini woman to start kingdom's first Hebrew language academy
TDT | Manama
The Daily Tribune – www.newsofbahrain.com
A young and aspiring Bahraini woman is all set to be the first person to start a Hebrew language academy in the kingdom.
Asma Alatwi is supposedly the first Bahraini who has a Bachelor of Arts degree in the Hebrew literature and language.
The 27-year-old graduated from Ain Shams University in Egypt in 2015.
She did her schooling at the Al-Iman School in Bahrain. It is here that her interest in the Judaism religion, its beliefs and the Jewish community, culture, lifestyle, traditions etc. began.
"Since 2009 my passion started off with curiosity, then turned into interest and finally to love! At the Al-Iman School, which is Islamic, we used to learn about prophetic biography which also includes a lot of stories about Prophet Mohamed (PBUH) with Jews. This knowledge motivated and inspired me to discover and learn more about Jewish by myself to satisfy my curiosity," said Asma to the News of Bahrain.
"My passion for learning the Hebrew language happened when I decided to study it at the university, but it was an exciting decision and good opportunity to educate and strengthen my knowledge and be able to read books and The Bible in the origin language, and I think today I use Hebrew more than yesterday.
"Honestly, I'd never imagined that I will study Hebrew as a BA degree but what surprised me was that I took my decision (literally) within a day or maybe even an hour!"
When Asma chose to study Hebrew, she planned to make a career for herself at Bahrain's Foreign Affairs Ministry. However, she is now working on launching her own academy called 'Shemot Academy', a virtual place for learning the Hebrew language.
Classes will be provided, for anyone aged 15 and above, through a mobile application, which will be the first of its kind in Bahrain. "The literal meaning of the word 'Shemot' is my name in Arabic, the same as you say 'Asma's Academy'. Shemot Academy will provide live classes, hopefully from the first week of March, with trainers and professional experts in the Hebrew language for all levels from beginners to advanced, all ages, genders and cover people from all Arab countries."
The academy also plans to offer self-study packages and an E-library rich with educational books, videos, activities and more for all learners to practice and improve their skills. In addition, it will hold workshops and forums and more, plans for which will be announced in the future. Asma can be connected by Instagram and Twitter @shemotacademy