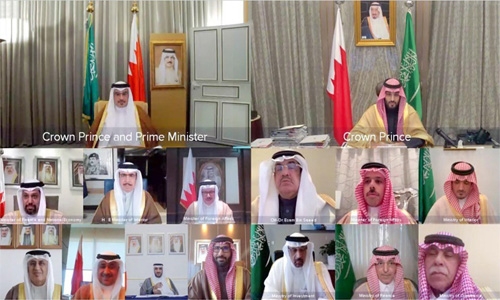 A fillip to Bahrain-Saudi ties
TDT |Manama
The Daily Tribune – www.newsofbahrain.com
His Royal Highness Prince Salman bin Hamad Al Khalifa yesterday affirmed Bahrain's keenness to continue to work with a "renewed determination" to enhance bilateral ties with Saudi Arabia to achieve integration in all fields.
The Bahrain-Saudi joint action, the Crown Prince and Prime Minister said, will sustain the growth of the economy based on the principles of "competitiveness, justice and openness." "This would create an environment that rewards creativity and innovation and generates promising opportunities," said HRH Prince Salman.
His Royal Highness was chairing the first meeting of Saudi-Bahrain Coordination Council jointly with His Royal Highness Prince Mohammed bin Salman bin Abdulaziz, the Crown Prince, Deputy Prime Minister and Minister of Defence of Saudi Arabia.
In his virtual address, Prince Salman affirmed keenness to move forward with the same cohesion displayed by the ancestors, but with a renewed determination to gain from the successes of the past and the promising future based on solid bonds and common destiny.
Bahrain and Saudi shares relations that are firmly based on strong historical foundations of brotherhood, visions and mutual understanding and coordination, HRH Prince Salman told the meeting.
The Crown Prince and Prime Minister praised the decision of the Custodian of the Two Holy Mosques King Salman bin Abdulaziz and His Majesty King Hamad bin Isa Al Khalifa to raise the level of representation of the Saudi-Bahraini Coordination Council.
Prince Salman also hailed the efforts of the Saudi Crown Prince to enhance bilateral cooperation and integration in all fields. The meeting approved organisation procedures of the council's work and the formation of the council's sub-committees.
The sub-committee formed are the Political Coordination Committee, the Security Coordination Committee, the Coordination Committee in the fields of economy, energy, trade and industry, the Coordination Committee in the fields of culture, media, tourism and social development, and the Coordination Committee in the areas of investment, environment and infrastructure.