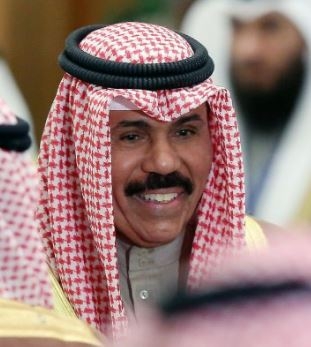 HH Sheikh Nawaf Al-Ahmad Al-Jaber Al-Sabah is the new Emir of Kuwait
MANAMA
His Highness Sheikh Nawaf Al-Ahmad Al-Jaber Al-Sabah has been named the Emir of Kuwait after the passing of the late Emir Sheikh Sabah Al-Ahmad Al-Jaber Al-Sabah, the Kuwaiti government said on Tuesday. In a statement, Deputy Prime Minister, Minister of Interior and Minister of State for Cabinet Affairs Anas Al-Saleh, on behalf of the Cabinet, prayed for mercy on the soul of the deceased.
Sheikh Nawaf Al-Ahmed Al-Jaber Al-Sabah was born on 25 June 1937. Sheikh Nawaf has been serving Kuwait well over 58 years in various responsibilities. Sheikh Nawaf served as governor of Hawalli, Minister of the interior, and minister of defence. He also played the role of the minister of labour and social affairs.
In 1994 Sheikh Nawaf was appointed as deputy chief of the Kuwait National Guard and held that post until 2003. The same year, Sheikh Nawaf reassumed the post of minister of the interior until an Amiri Decree was issued on 16 October 2003 assigning him as first Deputy Prime Ministers of Kuwait and minister of interior.
His Highness Shaikh Nawaf Al-Ahmed Al-Jaber Al-Sabah will be sworn in as Emir of the State of Kuwait on Wednesday in the National Assembly.
In a press statement, Speaker Marzouq Al-Ghanim said he had met, along with Prime Minister HH Shaikh Sabah Al-Khalid Al-Hamad Al-Sabah, the Amir of Kuwait HH Shaikh Nawaf Al-Ahmed Al-Jaber Al-Sabah and agreed to hold the oath-taking before the National Assembly on Wednesday, at 11:00 am, in accordance with article 60 of the constitution.