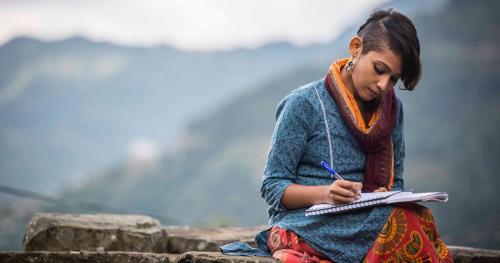 A priceless Bahrain pearl!
The passion with which Bahrain born and raised Akshatha Shetty speaks about empathy and love for complete strangers is something today's people, who focus more on their differences with other fellow beings rather than similarities, must learn from. The Indian School Bahrain alumni and her colleague Piyush Goswami, who shares her passion with the same ferocity, are the people to be honoured because what they have offered their country is priceless and irreplaceable – their very own career and life. They easily threw away what every young person in today's world struggles to attain through years of hardship – a promising career with a lucrative salary. They exchanged high paying jobs for a life among the downtrodden, to understand their suffering, and to highlight their stories to the world and bring home hope.
For the last two years, they have been traveling through rural India; dedicating their lives to a project they call Rest of my Family that highlights the country's most important social issues through Shetty's passion for writing and Goswami's interest in filmmaking and documentaries.
News of Bahrain caught up with Akshatha for a heart-to-heart.
1. Were you born in Bahrain?
Yes, I was born in Bahrain at the BDF Hospital on July 8, 1987.
2. Tell us about your parents.
We are (originally) from Manipal in Karnataka (south of India). Armed with nothing but hope in their hearts, my father and mother moved to Bahrain almost three decades ago. They come from very humble beginnings. It wasn't easy to move to an unknown country to secure a future for your family and children. We were a simple middle class family and yet that did not deter my father from helping anyone in need. From my earliest memories, he has always lent a helping hand to those who sought his assistance.
3. Siblings?
I have two siblings -- Ashvitha (26) and Ashwin (24). We all studied at ISB. They are now working in Bangalore. My sister works with Caterpillar and my brother with General Motors.
4. Where did you live in Bahrain? What was your childhood like?
We juggled between East and West Riffa. I would visit my cousins in Zallaq and I truly cherish my time with them. I was born and raised in Bahrain. So, there is definitely a sense of nostalgia associated with my memories from there. I have visited the country probably twice in the past ten years :)
However, my life in Bahrain was quite sheltered and safe and stepping outside your comfort zone and discovering your own individuality can be an absolutely humbling experience.
5. How do you remember your school life?
This is literally taking a trip down memory lane :) I really enjoyed my time with Mr Siva Rama Krishnan. He taught us Physics. He constantly reminded us that we were merely specks of stardust floating in the universe. He taught with a sense of wonder and reveled in philosophical discussions. Personally, I feel he was more of an artist than a teacher. The galaxy was his playground and the cosmos his companion.
Unfortunately, I have lost touch with most of my teachers but thanks to social media we are beginning to find each other. I passed out of school in 2004.
6. What was your ambition while at school?
I think I wanted to become an astronaut for as long as I can remember. I have always been fascinated with the universe and wondered what role human existence plays in it.
7. What did you do after finishing school?
I joined National Institute of Technology Karnataka in 2004. I graduated as an Electrical and Electronics Engineer in 2008.
8. What was your life in India like?
I fell in love with India the day I moved to the country. Of course, it is chaotic and inconsistent. However, there's a beauty in the chaos here. It can get absolutely cathartic but once you find your rhythm you will discover absolute freedom. And, I truly cherish that.
7. Where did you land your first job?
I worked with Infosys as a Systems Engineer in Bangalore for two years from 2008. I then worked as a sub-editor/reporter at The New Indian Express, Bangalore from 2010 to 2013.
8. How hard a choice was it to leave a promising career?
Having graduated from one of the best institutions in the country, I landed a job that earned me enough to live a comfortable life. However it wasn't really a hard choice to quit. I had absolute clarity on what I wanted to do with my life and I knew that it was the right thing to do.
9. What was your family's reaction when you broke the news to them?
Being honest with myself and everyone else has worked for me in my life. They are still coming to terms with my decision. They would be more than happy if I chased comfort rather than struggle. But I am certain that they will relent one day.
10. Tell us about Piyush Goswami.
We met in college. He graduated as a Mechanical Engineer and eventually decided to pursue documentary, photography and filmmaking. I think we complement each other with our skills. Our creative mediums of expression allow us to narrate a story that deserves to be told and follow it up with relevant support.
11. Give us a brief about your work.
As we started travelling and meeting different people and communities, and documenting their struggles, over time, we realised that documenting alone was not enough. It added no practical value to the lives of these people. To us, these people we were writing about were not merely names, faces or yet any other figure in any statistics. They were family.
Although the name and philosophy has been with us for over two years, Rest of My Family was officially launched last month. This project is an attempt to connect back, re-discover our relationship with and understand our responsibility towards the larger family that we are a part of -- the rest of our human family. As a part of the first leg of this campaign we will embark on a drive through different regions of India non-stop for an entire year. We are running a crowdfunding campaign to help us start and sustain the first leg of this project: http://igg.me/at/restofmyfamily/x/5395024
12. What is your typical day like?
The days vary based on our travels. While some days are spent on the road, others are with communities. With communities, the entire day usually goes in meeting people, bonding with them and understanding their situation. When we first visit these places, we are often considered as outsiders, the urban travellers who have come with their fancy gadgets. But gradually, over time, we become an integral part of their family. There's an element of uncertainty in our travels.
13. How difficult is it for a woman to work among the less fortunate?
Honestly, it isn't that difficult and it has nothing to do with gender. As long as you, as a human being, have the courage and conviction in your heart to pursue something you are truly passionate about with sincerity and honesty, then nothing can stop you.
Meanwhile 'Less fortunate' is a relative term. While we urban folks might be less fortunate with respect to happiness and purpose, the rural folks are less fortunate with respect to social and monetary requirements. We are all on the same boat struggling to survive and find purpose in our existence.
14. What do you do for funds?
Our only source of income is our documentary work. We also freelance with a few publications. We have come so far only through our dedication and sincerity, and support of the rest of our human family. And, we will let that decide our future.
We have just 3 days left for the crowdfunding campaign and have managed to raise $19818 so far.
You can follow our work here:
Facebook: https://www.facebook.com/RestOfMyFamily
Twitter: @RestOfMyFamily
Instagram: restofmyfamily
Wordpress: restofmyfamily.wordpress.com
Indiegogo campaign: igg.me/at/restofmyfamily/x/5395024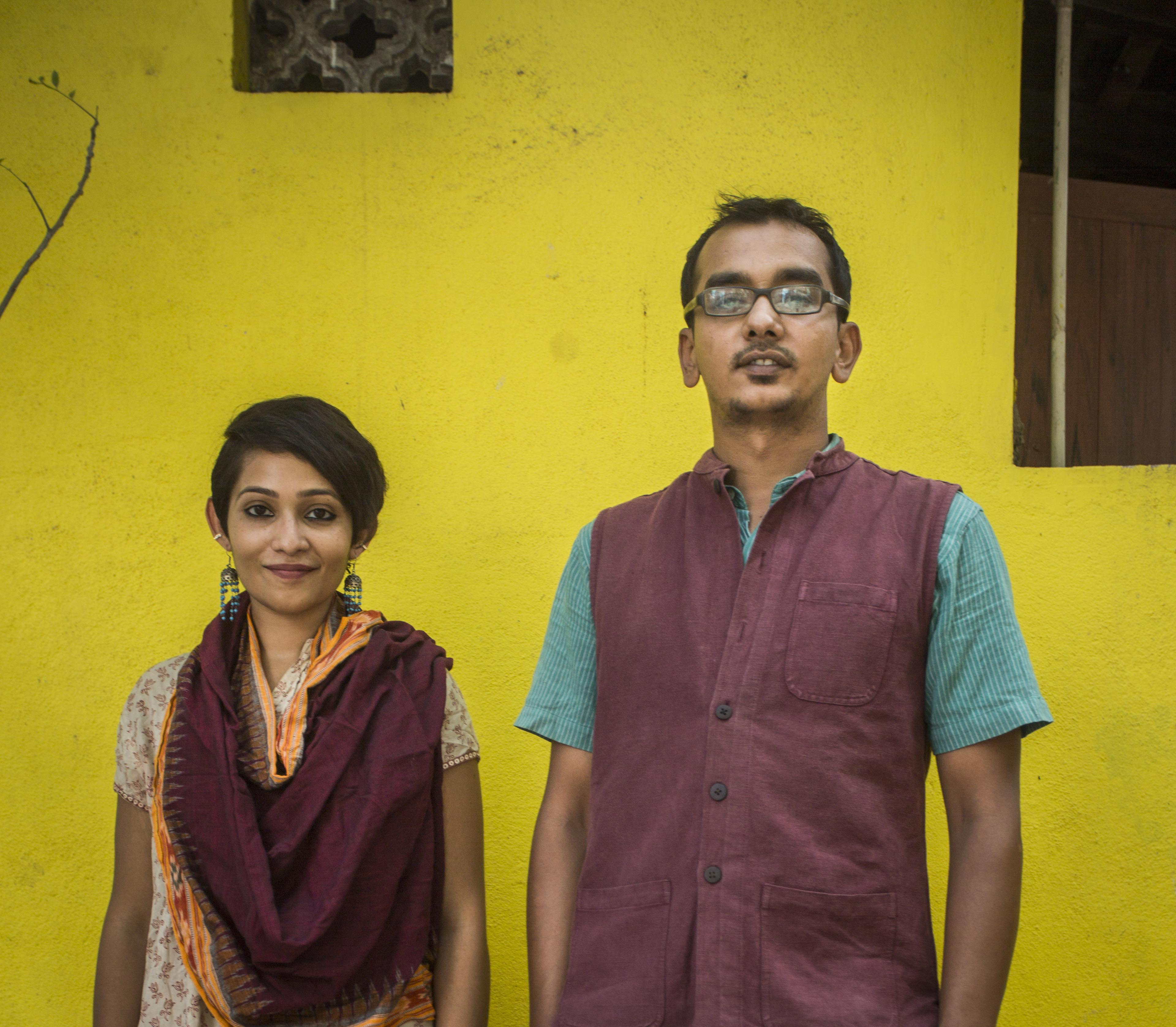 Akshatha Shetty and Piyush Goswami