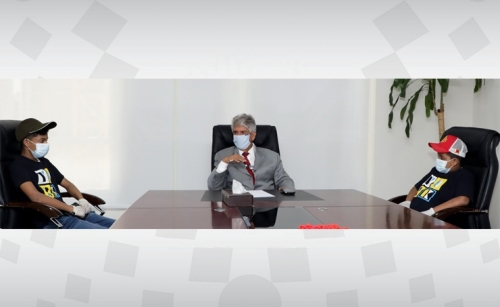 Late serviceman's sons received in honour and consolation
TDT Manama
Bahrain Defence Force (BDF) Warrant Officer Juma'a Mubarak Salim lost his life in the line of duty during one of his BDF Taskforce operations within the Saudi-led Arab Coalition to Restore Legitimacy in Yemen. Royal Humanitarian Foundation (RHF) secretary-general, Dr Mustafa Al-Sayed Al-Ameen, received the late officer's sons yesterday at his office, following directives from HH Shaikh Nasser bin Hamad Al Khalifa.
Dr Al-Sayed conveyed his deepest condolences from HH Shaikh Nasser to the sons of the fallen serviceman. He wished them success and prayed to Allah the Almighty to rest the soul of the deceased in eternal peace and to bless his family and relatives with patience and fortitude.
He stressed that the late soldier's dedication and sacrifices for the kingdom's sovereignty and security will never be forgotten, and will remain a source of great national pride. He affirmed that the childrens' needs and requirements will be looked after by HM King Hamad bin Isa Al Khalifa, who is the father of the nation.
Dr Al-Sayed advised the fallen martyr's sons to take interest in their education and future, as well as to follow in the footsteps of their late father who, he said, sacrificed his life for the sake of the cherished homeland. The martyr's family in turn, extended sincere thanks and appreciation to HM the King, and the Bahraini citizens for their support and consolation.