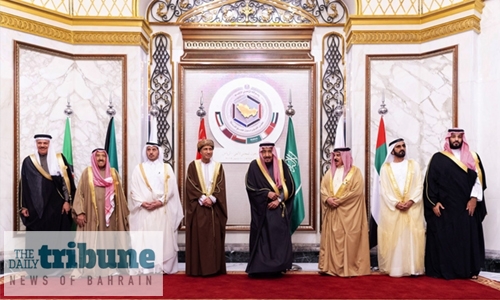 Gulf Arab summit calls for united stance against Iran
His Majesty King Hamad bin Isa Al Khalifa yesterday reiterated Bahrain's full backing to the 40th Summit of the GCC Supreme Council which called for united stance against Iranian aggression in the region. His Majesty said the summit was an important opportunity for GCC leaders to exchange views and consult.
The summit, HM the King said, will help member states reinforce cooperation and "fulfil the aspirations of people for further prosperity." Custodian of the Two Holy Mosques King Salman bin Abdulaziz Al-Saud chaired the meeting in the presence of heads of states from Oman, Kuwait, UAE and Bahrain at Diriyah Palace.
In his opening remarks, King Salman voiced strong rejection of the Iranian aggression in the region saying, "GCC has been able to overcome several crises that have hit the region." "Our region today is undergoing circumstances and challenges that call for concentrated efforts to confront them. The Iranian regime continues its aggressive policies to undermine the security and stability [of the region], and [continues to] support terrorism," King Salman said.
The GCC states must unite to preserve their countries, as well as the interests of their people, he said. He also called on the international community to take the necessary measures to ensure energy supplies and the freedom of maritime navigation is secured. The Saudi King also reaffirmed that the Kingdom will continue to support Yemen to ensure its security and stability.
Economic integration
According to the meeting's final communique, the summit also called for finalising legislation for regional economic integration by 2025, including financial and monetary unity. The statement, read by GCC General Secretary Abdullatif bin Rashid Al Zayani and broadcast live, called also for boosting military and security cooperation to maintain regional security.
The summit, Al Zayani said, welcomed the opening of the International Centre for the Protection of Maritime Navigation in Bahrain. Present at the meeting were UAE delegate Vice President and Prime Minister Sheikh Mohammed bin Rashid Al Maktoum, Kuwait's Emir Sheikh Sabah al-Ahmad al-Sabah, Qatar's delegate Prime Minister Sheikh Abdullah bin Nasser bin Khalifa Al Thani, and Oman's delegate Fahd bin Mahmoud al-Said, Deputy Prime Minister for the Council of Ministers.
Earlier, upon his arrival, HM the King was received by King Salman, HRH Prince Faisal bin Bandar bin Abdulaziz Al Saud the Governor of Riyadh Region and Al Zayani. King Hamad attended a lunch banquet hosted by the Saudi King in honour of the GCC leaders at Diriyah Palace.