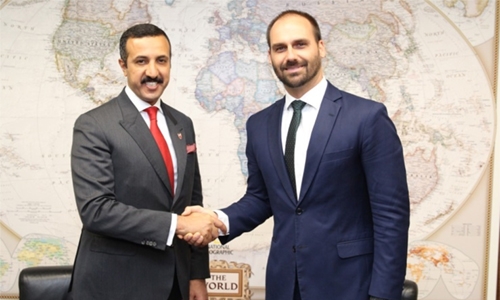 Bahrain can't "turn a blind eye" to terrorism: official
A top Bahraini official yesterday expressed Bahrain's keenness to enhance cooperation with Brazil especially in combating terrorism and improving the security and stability of the region. "It is not possible to turn a blind eye or ignore those who are trying to undermine the stability of the Middle East," Dr Shaikh Abdulla bin Ahmed Al Khalifa said adding that the Kingdom is looking forward to addressing the crises and challenges through cooperation with partners.
Cooperation, he explained, would focus on combating terrorism, preventing threats to international navigation and contributing constructively to the resolution of protracted conflicts. Dr Shaikh Abdulla was meeting Special Advisor on International Affairs of the President of the Republic of Brazil, Filipe Martins during his official visit to Brazil. Bahrain, he said, is holding a workshop next October on the safety of maritime and air navigation and dangers of smuggling weapons of mass destruction to the security of the region.
The workshop, he said, is the outcome of the Warsaw Conference in February, while stressing that eradication of terrorism requires collective efforts. Dr Shaikh Abdulla explained that Bahrain, under the leadership of His Majesty King Hamad bin Isa Al Khalifa, embraces reform, development and coexistence as national constants. "It also gives priority to investments in the human element within the framework of Bahrain Economic Vision 2030." Dr Shaikh Abdulla stressed that Bahrain is keen to bear its international responsibilities and will "not compromise on its security and stability."
For his part, Filipe Martins commended the Kingdom's efforts in enhancing regional and global security, expressing his country's aspiration to enhance cooperation and coordination with the Kingdom in various fields. Separately, the Undersecretary met with the son of the President of the Federal Republic of Brazil and President of Foreign Relations Committee of the Lower House of the Federal Republic of Brazil, in Brasilia.
During the meeting, the two sides discussed ways to strengthen relations including the regional and international issues of common concern, Eduardo Bolsonaro expressed his country's aspiration to strengthen cooperation and coordination with Bahrain, especially at the level of Legislative Authority, praising the Kingdom's remarkable development in many areas of development and reform.