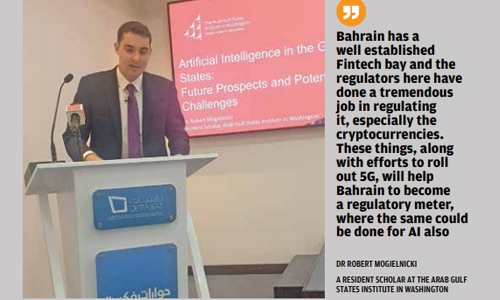 AI: Bahrain's next big thing
Emerging Artificial Intelligence (AI) technologies could contribute $320 billion to Middle Eastern economies by the year 2030, said a top expert citing a recent PricewaterhouseCoopers (PwC) report. "There are high expectations for AI across the Gulf," said Dr Robert Mogielnicki, a Resident Scholar at the Arab Gulf States Institute in Washington during 'think talks', an event organised by Derasat on 'Artificial Intelligence in the Gulf Arab States: Prospects & Challenges'.
"This is my research visit where I am looking at the growing technology in the Gulf," Dr Mogielnicki told Tribune adding: "I am speaking to policymakers and researchers in the private sector, entrepreneurs and investors to find out 'how the tech scene in their country is changing and shaping up in the Gulf'." Bahrain, he said, is growing gradually, "as it is quite a hub for technology in terms of Fintech and rest of the emerging technologies."
"It is a very interesting time to be here as it would enable us, researchers, to look in to AI more in detail." GCC states, he said, always try to find a competitive advantage. And in Bahrain this "is Fintech." "Bahrain has a well established Fintech bay and the regulators here have done a tremendous job in regulating it, especially the cryptocurrencies.
"These things, along with efforts to roll out 5G, will help Bahrain to become a regulatory meter, where the same could be done for AI also. AI development, he said, should be done keeping in mind that "it is not necessarily going to be easy." "It's a very competitive field and we have a lot of industries trying around the globe."
Private sector in AI
Mogielnicki stressed the importance of the private sector in spearheading AI developments. "I believe works to grow AI in the country has to be spearheaded by the private sector as we have here some big industrial players that are implementing AI technologies in their business process.
"A lot of big players here are doing a lot of work with blockchain and increasingly with artificial intelligence, thus for the country the major and the first step is digitalisation."
Creating an AI hub
The difficulty, according to Mogielnicki, Bahrain would face in the AI race will be "creating a hub." "We see a lot of interests, but the country still doesn't have yet what it requires to make a hub. "The challenging part would be attracting the tech talents to the country and create AI-driven technology that will have a global impact," Mogielnicki said.
Nayla Al Khalifa, Director of Communications and Knowledge at Derasat told Tribune, "The idea behind the Think Talk series is creating a platform for researchers and academics to be an integral and vocal part of global conversations."