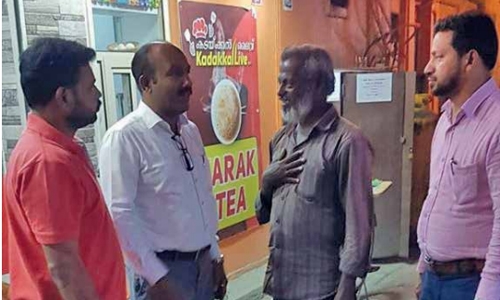 Ending up on the streets of Bahrain, after losing his job and enduring a series of setbacks, Sulaiman Kunju, an Indian national by birth, can finally breathe a sigh of relief. Thanks to the efforts of media and social service organisations in the Kingdom, Sulaiman will fly back to his homeland today, after landing in Bahrain almost 10 years ago as a construction worker.
Fate, however, had other plans for Sulaiman and finally left him stranded on the terrace of a building here in Manama without a roof to escape the scorching Sun. Indian National Suleiman's shocking situation garnered public attention only when 4 PM News, a sister concern of Tribune, published a story seeking help. Learning about his situation, the authorities here quickly intervened to clear his travel ban and a fine imposed for staying illegally.
He was also granted immigration clearance. The Immigration Directorate has worked with the India Embassy of Bahrain to expedite the process. The unfortunate happenings in Suleiman's life began with him failing to renew his visa, after losing his job as a construction worker. The situation worsened further when he also failed to retrieve his passport from his sponsor who passed away, which left him with a CPR as the only identification document.
When contacted, Sulaiman earlier told Tribune that it took him almost two years just to settle the debts, which he incurred back home to pay for the visa. The visa cost his BD1,000. "After two years, I had no money to renew my visa and since then I have been an illegal resident in the Kingdom," he told Tribune.
Despite winning his ticket to the homeland, Sulaiman's problems are far from over as he is still in financial distress. The family of Sulaiman, who hails from the Indian state of Kerala, includes his wife and three children. He requests help from capable hands. To help, contact Suleiman on +973 36451199 or Badushah on +973 33311919