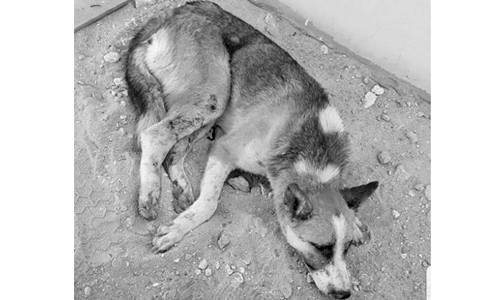 Horrendous attack by schoolboys in Sehla makes a stray dog breathe his last
Cruelty against animals continues to remain as a concern in the Kingdom, with the latest incident being the story of a brutal assault on a stray dog in Sehla. More shocking was the fact that the culprit here allegedly was a group of schoolboys. The shocking account of the animal cruelty emerged as eyewitnesses came forward describing how a stray dog in Sehla was beaten and stoned to death. According to sources, the boys frequently hurt the dogs in the area and in this instance caused a fatal injury. A woman, who witnessed the attack reported the incident to an NGO, who in turn tried to save the dog's life.
Fathiya Al Baskathi, the founder of Bahrain Strays, told Tribune that the woman reported the incident earlier this week. "Two days ago a young woman called me and told me that a dog was in a bad state after being beaten up and stoned. "She said that the dog was left to die and that she wanted someone to help save its life. "When we went there, the dog was not there and we searched for two days. "The dog was hiding in fear while dying of injuries. Finally, the dog was found and brought to the clinic to be treated," she told Tribune.
"It was only then that we realised the extent of the wounds and that they were extremely severe. "The dog succumbed to its injuries last night and the lady who helped us with this dog didn't take the news too well and was crying inconsolably. "The doctor told us that the dogs suffered numerous injuries," she told Tribune. Al Baskathi said that there are unconfirmed reports that the dog was also run over by a car driven by a teacher. "I was later told by a student of the school that one of the teachers there ran over the dog which probably also contributed to the injuries.
The child said he does not know if this was an intentional act." Al Baskathi told Tribune that she plans to meet the headmaster of the school soon. "Sadly the school is closed until 21st. We found that there are two other weak dogs near that school and want to save them from being tortured as well." According to her, this is not an isolated incident. "There are many stories like this, the amount of torture that happens is shocking."
She said that after speaking to some of the people in the area, "I learned that those particular group of kids have a habit of torturing dogs for fun." "These cases are not isolated to this area, I have many stories from various villages where kids are seen hurting dogs, " she said.