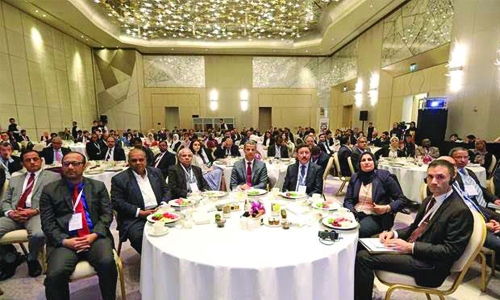 Financial services in focus at CIBAFI meet
Manama/ Istanbul : General Council of Islamic Banks and Financial Institutions, the umbrella of Islamic financial institutions held the second and final day of its third Global Forum, with the theme of "The New Face of Financial Services: Disruptions, Opportunities and the New Normals".
The Forum, organised in partnership with the Banking Regulation and Supervision Agency of Turkey (BRSA) at Raffles Istanbul Hotel in Istanbul, Turkey, started with a special and exclusive CIBAFI Breakfast session on "Leadership and Strategy in the Era of the Fourth Industrial Revolution".
The session is an interactive exchange that challenges conventional wisdom and practice around personal and organisational leadership. It offers a very different perspective – one that is much more suited to today's uber-connected and uber-populated age.
Special Session stage was taken this year by the Author of Too Many Bosses, Too Few Leaders (Simon & Schuster, 2011), Be the Change (McGraw-Hill, 2014), Open Source Leadership: Reinventing Management When There's No More Business as Usual (McGraw-Hill, Oct 2017), and a regular writer for Forbes - Rajeev Peshawaria. The eminent author shared the stage in a conversation with a Veteran Regulator and Prominent Academic Prof. Ahmet Faruk Aysan, currently Dean, İstanbul Şehir University
The fourth session themed "Role and Power of Mobile in Expanding Financial Inclusion" was chaired by Mohamed Abbes, Public Policy Director, MENA, GSMA, Tunisia. The Session focused on the power of mobile banking, and the future of business in the shadow of Banks and Telecom. Session panellists have shared their experience and thoughts on whether the Mobile money and payments is an opportunity or threat for Islamic Financial Institutions.
The second day concluded with Session 5 themed "Leveraging the Industry Growth in the Era of Fourth Industrial Revolution", which was chaired by Prof. Dr Lokman Gündüz, Director of Graduate School of Business, İstanbul Şehir University. The session presented an overview of technologies underpinning the fourth industrial revolution and discussed the role of digital branches, robo-advisors in enhancing customers' banking experience. It also focused on cybersecurity and discussed avenues to minimize
the risks.
This Global Forum is organised as part of CIBAFI's 3rd Strategic Objective of Awareness & Information Sharing, which aims to spread awareness and promote information sharing among its members and other stakeholders for the development of the Islamic finance industry. This annual industry leaders gathering of CIBAFI has marked its place as the industry debate and networking venue.