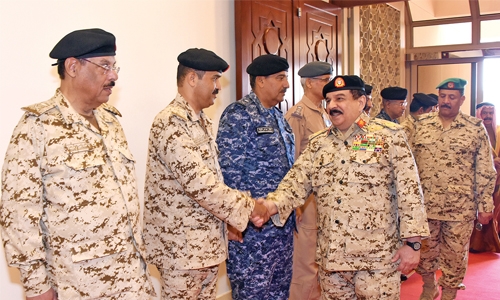 HM King reviews progress of space rehabilitation programme
Manama : Bahrain's preparations are in full swing to take part in a space expedition along with Russian cosmonauts to the International Space Station (ISS).
This came as His Majesty King Hamad bin Isa Al Khalifa visited the General Command of the Bahrain Defence Force (BDF) yesterday and reviewed the progress of a rehabilitation programme implemented to prepare RBAF officers for the Kingdom's upcoming space programmes.
HM the King was briefed by the Royal Bahraini Air Force (RBAF) Commander of the rehabilitation programme implemented for the RBAF officers.
RBAF commander stressed that the "Bahraini pilots are eager to participate in the space trip".
HM, the King valued highly the move and said, "This is within the framework of cooperation between the two friendly countries".
Bahrain's space ambitions got a big boost when HM the King established a first-of-its-type national authority for aerospace sciences back in 2014 for establishing a sound infrastructure for observing outer space and Earth. In 2016, Bahrain's growth in the area was further boosted by the signing of a collaboration between the UAE Space Agency and the Bahraini National Space Science Agency.
Collaboration with Russia
Russian Astronauts, in a recent message, told HM the King that they are "hoping to see a Bahraini astronaut soon among them onboard International Space Station (ISS)".
The statement, an audio and video message, was relayed from the International Space Station (ISS) by astronauts working with the Russian Space Agency - Roscosmos on the occasion of Bahrain's National Days.
HM the King, in his reply, told the astronauts in ISS that Bahrain is "looking forward to seeing a Bahraini astronaut among the ISS crew soon."

Future plans
While reviewing plans to enhance the combat capability of the BDF units, HM King said that the training programmes adopted by BDF command "falls in line with the most modern training methods."
His Majesty also voiced deep pride in BDF's brave personnel, citing their courageous participation in the Saudi-led Operation Restoring Hope in Yemen.
HM King Hamad congratulated the graduates of the 12th batch of officer cadets – the Ahmed Al Fateh Brigade and wished them further success.
BDF Commander-in-Chief, Field Marshal Shaikh Khalifa bin Ahmed Al Khalifa, Defence Affairs Minister, Lieutenant-General Yussef bin Ahmed Al-Jalahma, Chief of Staff, Lieutenant-General Dhiyab bin Saqr Al Nuaimi, and a number of senior officers accompanied HM the King during the visit.