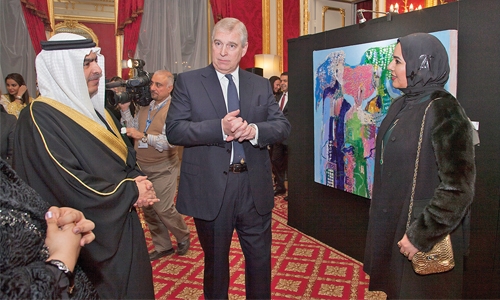 Bahrainis display their talents in London
Manama : Eighteen Bahraini artists are representing the Kingdom at 'Be Bahrain' Art Week, an exclusive event to commemorate the 200th anniversary of the British-Bahraini relations and concurrently celebrate Bahrain's National Day in London.
The Art week, open to the public at Asia House from 16-21 December, comprises a schedule of events aimed at showcasing the artistic pulse of Bahrain, a platform for the Kingdom's emerging talents to share their work with a wider international audience.
Somaya Abdulghani, Jamal Abdulrahim, Ahmed Anan, Balqees Fakhro, Mariam Fakhro, Faika Al Hassan, Lulwa Al-Khalifa, Marwa Al-Khalifa, Nabeela Al Khayer, Ghada Khunji, Aysha Al Moayyed, Abbas Al Mosawi, Maryam Nass, Areej Rajab, Omar Al Rashid, Latifa Al Shakar, Mayasa Al Sowaidi and Zakeya Zada were selected based on their submissions and best representation of Bahrain's culture, heritage, people and topography, under the central theme of 'Be Bahrain'.
They were selected by members of the International jury committee of ArtBAB 2017 – Bahrain's second international Art Fair set to be hosted in March next year.
The exhibition of paintings and sculpture, produced using a variety of mediums, from sculpture and collage, to abstract and conceptual art represent the diversity and vibrancy of the Bahraini art scene.
Held under the patronage of Bahrain's Ambassador to UK Shaikh Fawaz bin Mohammed Al Khalifa, the 'Be Bahrain' Art Week will continue in London till December 21.
The 'Be Bahrain' Art Week will also include a private evening reception at the Lancaster House where select art pieces by the participating Bahraini artists will be presented for
viewing.
The agenda also includes a panel discussion on Bahrain's deep-rooted artistic heritage and the creative spirit of the Middle East region; a public exhibition at the Asia House of over 35 unique pieces representing the Kingdom; and a pop-up display and installation of the Annada brand by leading Bahraini designers who have collaborated with over twenty artists from Bahrain and across the region.
"While assessing over the years the tremendous potential of our Bahraini artists, conceiving Bahrain's first international art fair in 2015 was a significant step in creating a platform to showcase the Kingdom's artistic base. 'Be Bahrain' is yet another vertical of Bahrain Art Across Borders (BAAB) initiative which aims to promote Bahrain's artistic expression on an international front," Kaneka Subberwal, Founder of Art Select and the managing body of ArtBAB 2017, stated.
The Bahraini Art Week is being powered by Tamkeen and conceived and executed by art investment consultancy Art Select as part of a joint effort to promote Bahraini art and artists across borders and further develop the local arts sector.