Outstanding entities honoured
Manama : A series of awards to high performing entities were distributed by Prime Minister HRH Prince Khalifa bin Salman Al Khalifa and Crown Prince, Deputy Supreme Commander and First Deputy Prime Minister HRH Prince Salman bin Hamad Al Khalifa yesterday at the Government Forum.
The "Educational Excellence Award" was given to the Amna bint Wahab School, following outstanding institutional evaluations by the National Authority for Qualifications and Quality Assurance of Education and Training (QQA) over three consecutive years. The award was received by Education Minister Dr. Majid Al Nuaimi.
The "Customer Service Excellence Award" was given to Housing Ministry, Transportation and Telecommunications Ministry and the Capital Secretariat, based on their high standards of customer support through the national system of complaints and suggestions portal, Tawasul.
The awards were received by Housing Minister Basim Alhamer, Transportation and Telecommunications Minister Kamal Ahmed and Works, Municipalities Affairs and Urban Planning Minister Essam Khalaf.
The "Government Best Practices Award" was given to three entities, including Interior Ministry for introducing the maritime e-security project, which provides new security devices onboard vessels, faster rescue and protection operations and coverage of Bahrain's territorial waters by radar electric sensors.
Health Ministry got the award for applying best practice on the use of antibiotics, which has helped reduce government costs by over BD8 million and contributed to halting various malpractices, which helped increase patient immunity and health.
The Central Bank of Bahrain (CBB) was given the award for introducing an innovative accounting practice, which transformed Islamic Takaful companies into highly profitable entities.
The awards were received by Interior Minister Lieutenant General Shaikh Rashid bin Abdulla Al Khalifa, Health Minister Faeqa Al Saleh and CBB Governor Rasheed Al Maraj.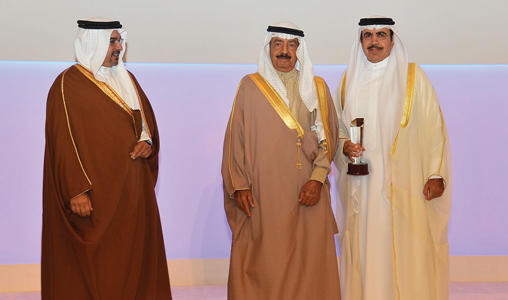 Interior Minister Lt. General Shaikh Rashid bin Abdulla Al Khalifa receives "Government Best Practices Award" from HRH Premier as HRH Crown Prince looks on.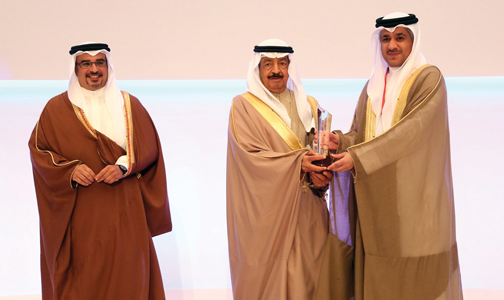 Minister Kamal Ahmed receives the award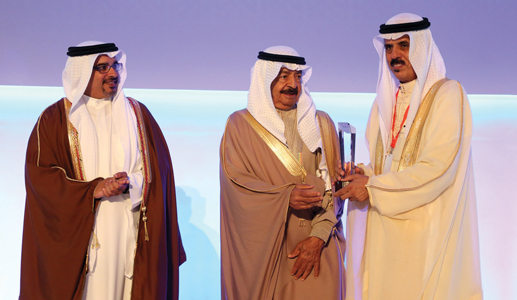 Dr. Majid Al Nuaimi receives the award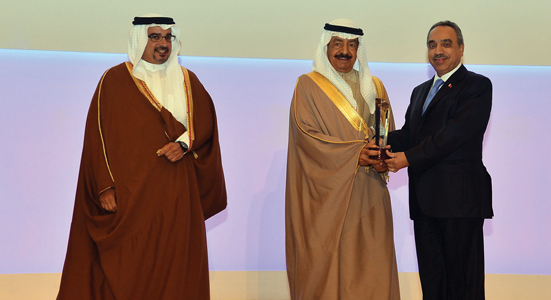 Minister Essam Khalaf receives the award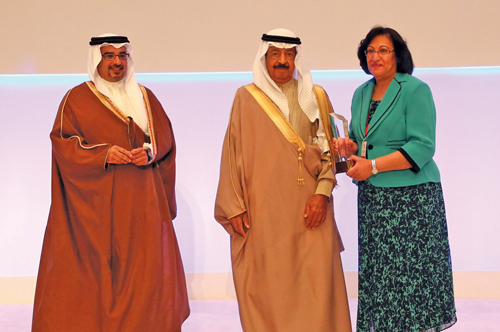 Health Minister Faeqa Al Saleh receives award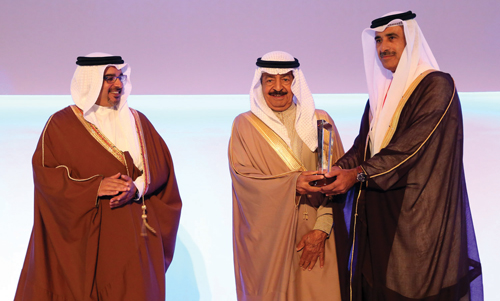 Basim Alhamer gets "Customer Service Excellence Award"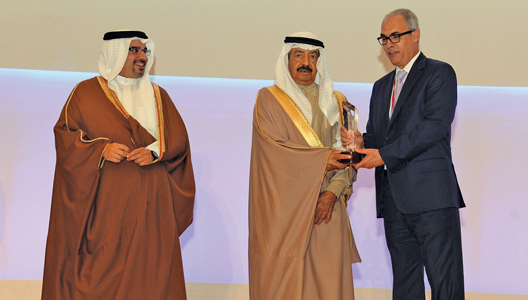 CBB Governor Rasheed Al Maraj receives the award