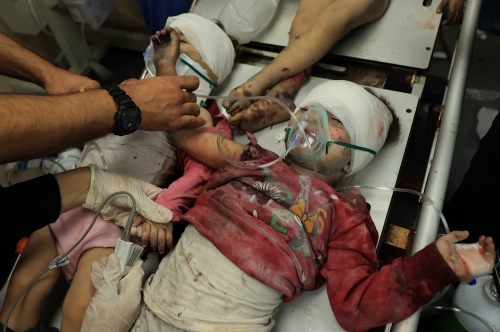 Israeli soldiers raid Gaza's main hospital
AFP | Gaza
The Daily Tribune – www.newsofbahrain.com
Israeli soldiers yesterday raided and then combed through Gaza's main hospital, Al-Shifa, before withdrawing, a key objective in their war on Hamas which has raised fears for patients and other civilians trapped inside.
The Gaza Strip's government said the death toll from the war had reached 11,500, including at least 4,710 children and 3,160 women. Some 29,800 people have also been wounded in the fighting, according to the government, which has struggled to keep an exact toll of casualties amid intense fighting in northern Gaza.
Both Israel and its top ally the US say the Palestinian fighters have a command centre below the Al-Shifa complex, a charge denied by Hamas and leaders of the hospital that has become a focal point in the 40-day-old war.
Israeli soldiers, some wearing face masks, shot in the air and ordered young men to surrender, a journalist in contact with AFP reported. About 1,000 male Palestinians, hands above their heads, were in the vast hospital courtyard, some of them stripped naked by Israeli soldiers checking them for weapons or explosives, the journalist said.
Washington, the Red Cross and World Health Organization urged utmost caution with civilian lives. The journalist trapped inside the hospital told AFP in the early evening that Israeli troops had withdrawn from the facility and redeployed around its outskirts.
The Palestinian Authority, based in the occupied West Bank, branded the raid as a "flagrant" violation of international law.
'Wholly responsible'
A White House spokesman pushed back against Hamas claims that US President Joe Biden was "wholly responsible" for the raid by Washington sharing its assessments that militants were using Al-Shifa complex.
"We did not give an OK to their military operations around the hospital," National Security Council spokesman John Kirby told reporters, adding that such decisions were for the Israeli military. The United Nations has said it estimates that at least 2,300 people - patients, staff and displaced civilians - were inside and may be unable to escape because of the fighting.
'Hospitals not battlegrounds'
International concern over the fate of the people inside Al-Shifa Hospital has been steadily increasing. "The protection of newborns, patients, medical staff and all civilians must override all other concerns," UN humanitarian chief Martin Griffiths said on X.
"Hospitals are not battlegrounds." Witnesses have described conditions inside the hospital as horrific, with medical procedures taking place without anaesthetic, families with scant food or water living in corridors and the stench of decomposing corpses filling the air. The situation in Gaza's other hospitals is also dire, with the World Health Organization saying 22 of 36 are not functional due to a lack of generator fuel, damage or combat.