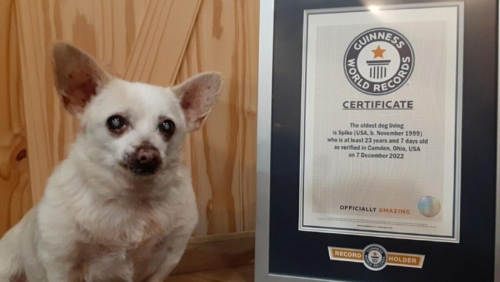 Oldest dog alive bags Guinness World Record at age 23
Agencies | Washington
The Daily Tribune – www.newsofbahrain.com
A Chihuahua in the US has been certified as the world's oldest dog at 23 years and 43 days old as of December 7, 2022.
Spike, named after the popular Tom and Jerry cartoon character, stands at 9 inches (22.86 cm) tall and weighs just 12.9 pounds (5.85 kg).
Rita Kimball, the owner of Spike, found him at a parking lot when he was 10 years old.
Unlike the stereotype, this chihuahua has a calm demeanour. "My dog seemed to be the opposite; he was small and friendly, so I thought it just seemed to fit him," Rita said to Guinness World Records.
"Spike was a name for a large dog. My guy was small, but he had the attitude of a big dog."
However, he truly reveals his Chihuahua self when pet by a stranger.
Kimball says that since the dog is almost blind and hard of hearing, he gets testy at times and just wants to be left alone.
"In general, though, he was great with the grandkids and never bit a stranger. His little tail still wags when people talk to him."