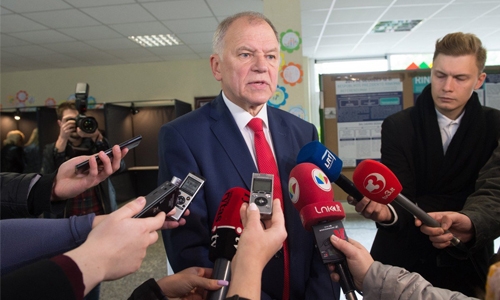 Lithuanians elect new president
Lithuanians voted for a new president on Sunday with concerns over income inequality and poverty dominating round one of a tight race in the Baltic eurozone state. Voter turnout tallied at 56.45 percent at the close of voting on Sunday, according to the Central Elections Commission, which also said it expected to publish partial official results in the night or early on Monday.
Nine candidates are vying to succeed two-term independent incumbent Dalia Grybauskaite. The politician nicknamed the "Iron Lady" for her strong resolve has been tipped as a contender to be the next president of the European Council. But pre-election surveys suggest only three stand a chance of making it to an expected May 26 run-off that would coincide with European Parliament elections.
Centre-left Prime Minister Saulius Skvernelis, conservative ex-finance minister Ingrida Simonyte and independent economist Gitanas Nauseda lead the pack, and each has focused primarily on bread and butter issues. Simonyte is popular with wealthy, educated urban voters while Skvernelis' populist approach resonates with the rural poor.