Bahrain's digital economy requires a collaborative approach to cybersecurity
TDT | Manama
The Daily Tribune – www.newsofbahrain.com
Digital transformation is the cornerstone of Bahrain's economic development. In the next three years, Bahrain is expected to spend $2.1 billion on developing its Information and Communications Technology (ICT) sector. The country has been an early adopter of advanced technologies, enabling widespread digital transformation in its public and private sectors. Empowered by its Vision 2030, the Kingdom is inching closer to its goal of becoming the region's ICT hub.
By joining the new Digital Cooperation Organisation, Bahrain has reaffirmed its commitment to the development of its digital economy to further empower economic diversification, especially in a post-pandemic world. However, as the Kingdom continues to build its digital economy and implements new and innovative technologies, it also faces sophisticated and complex cybersecurity challenges.
The pandemic led to increased adoption of digital services across education, banking, retail, and more. Cybercriminals around the world followed this trail and exploited this circumstance for their nefarious gains.
The recent remote working initiatives in Bahrain's public and private sectors have further underscored the importance of world-class cybersecurity infrastructure and security measures that are closely aligned to global industry standards. The Bahraini government recognizes this and has taken proactive steps to ensure a safe ICT ecosystem.
Bahrain is one of the few countries in the Arab region to have implemented comprehensive cybersecurity measures – drafting a cybercrime law, a data protection law, a dedicated cybersecurity strategy, and establishing a National Cybersecurity Centre.
In the latest ITU Global Cybersecurity Index (GCI), Bahrain scored highly, signalling the Kingdom's high cybersecurity readiness. Cybersecurity and privacy protection are the foundation of our digital economy. As technology becomes ever more ubiquitous, Bahraini enterprises and government entities need to take an enhanced approach to mitigate cyber threats.
Hence, an all-industry, full-society approach to collaboration is essential to strengthening systematic cybersecurity governance for everyone. To encourage industry-wide cooperation towards common security standards and verification mechanisms, Huawei recently launched the Huawei Global Cyber Security and Privacy Protection Transparency Center in Dongguan, China.
At the heart of the centres' design is a concerted effort to address cybersecurity across various technology platforms. It is designed to facilitate communication, open collaboration, knowledge sharing, and trust-building between the government, partners, and customers to build an unprecedented global cyber resilience era. As a global ICT leader, Huawei has built over 1,500 networks that connect more than three billion people across 170 countries and regions.
None of these networks has ever experienced a major security incident. Our broad array of products and solutions that effectively apply to diverse scenarios in Bahrain's digital economy already incorporate cybersecurity management requirements. Drawing on our extensive decade-long experience in product security quality, we can help ensure the end-to-end security of the supply chain across enterprises, government, and partners in Bahrain.
As a business, we thrive on openness, collaboration, and shared success to address real needs and create real value. As Bahrain continues to build its digital economy, it needs to ensure that it is laying the foundation for a robust cybersecurity infrastructure through open public-private collaborations.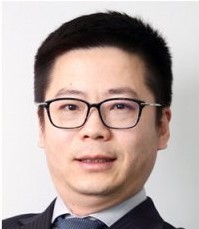 JASON CAO, CEO, HUAWEI BAHRAIN