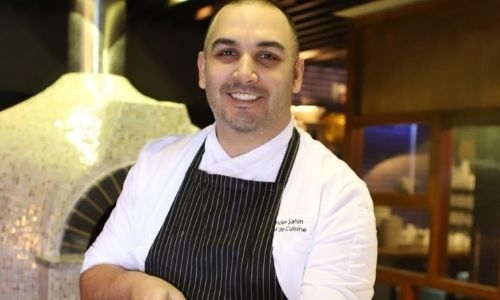 Eats and Treats by Tania Rebello in conversation with Onder Sahin, Baharat's new Turkish Chef de Cuisine
TDT | Manama
The Daily Tribune – www.newsofbahrain.com
Turkish food has always brought much delight to the world with its use of fresh ingredients and focus on core flavors. Turkish cuisine is largely the heritage of Ottoman cuisine. Did you know that the lip-smacking shawarma that we all enjoy originates from the Ottoman culture? Shawarma is derived from the word 'çevirme' meaning 'to turn' referring to the turning rotisserie on which the meat is cooked.
In Turkey, it is known as doner kebab. You have probably had the opportunity to try the fresh flavors of 'Lahmacun' that is better known as the 'Turkish oven pizza'. Baharat at Le Meridien, Bahrain City Center has a new Turkish Chef de Cuisine- Onder Sahin, who brings authentic and delectable flavors, is offering an exclusive experience that could be only felt in Turkey, a nation of rich tastes.
Chef Onder has been sharing his expertise of Turkish cuisine across the Middle East through his rich experience at various well-known hotels. It was wonderful to interview a chef who shares a common love for pepperoni pizza with me. With more Turkish dishes finding their place on its menu, Baharat has been adding new, significant touches to its dining scene. Read further to know more.
1. At what age did you get into the culinary field? What was your favorite dish as a child?
I got into the culinary world at the age of 14. Growing up, my favorite dish was pepperoni pizza.
2. What can a person expect to experience when they try Turkish food?
Customers can experience a strong focus on taste and flavors. More important than looks is the taste and flavors of each dish.
3. Name three ingredients that are widely used in Turkish cuisine.
Tomato paste, eggplant, yogurt, flour as well.
4. Name a dish that is widely consumed in Turkey but is not as popular in Bahrain.
White beans stew with pastrami.
5. Tell us about some of the changes that have been made to the Baharat restaurant.
We have recently installed the dome oven where fresh Turkish Pide are made. Baharat will feature more Turkish dishes on its menu and we will be launching special business lunches after Ramadan highlighting new Turkish delicacies.
6. What are some of the dishes you plan to introduce at Baharat restaurant?
Turkish Pide, Turkish Kebab, Turkish Mezzah, salads and desserts.