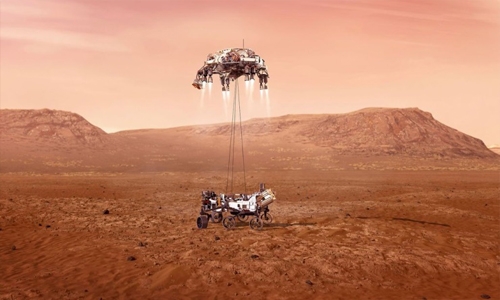 NASA's Perseverance to land on Mars in search for ancient life
Agencies | Washington
NASA's Mars rover Perseverance will land on the Red Planet Thursday after a roughly 480-million-kilometre journey through space.
The landing sequence, known as the "Seven Minutes of Terror," will see Perseverance enter Mars's atmosphere at a speed of 20,000 kilometres per hour before deploying thrusters and a parachute to rapidly slow its descent, Deutsche Presse-Agentur (dpa) reported.
Since it takes over 11 minutes for the NASA team to receive a radio signal back from Mars, the entire process will be over once they receive notice that Perseverance has entered the atmosphere.
Perseverance will land in a massive crater called Jezero that used to be a lake. Scientists say geologic samples collected their could give evidence of ancient microbes that previously existed on Mars.
Perseverance is expected to study the Mars surface for at least two years as it examines the climate and geology, collects rock and soil samples.
According to NASA, the roughly 2.7-billion-dollar rover project will help pave the way for human exploration of the Red Planet.