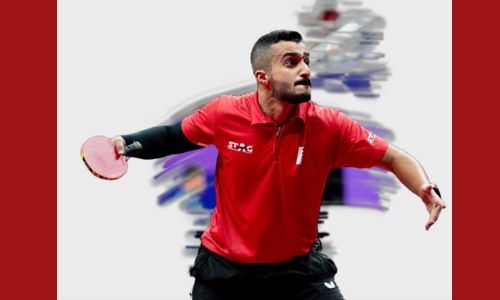 Bahraini paddlers advance in singles play
TDT | Manama
The Daily Tribune – www.newsofbahrain.com
Bahrain's paddlers made winning starts in their respective singles competitions yesterday at the 19th Asian Games in Hangzhou, China.
Maryam Alaali and Amruta Phadke both booked their places in the women's singles round of 32, while Rashed Rashed and Alyas Alyassi advanced to the same stage in the men's singles.
In the women's draw, Maryam defeated Amiri Sumayai 4-0 (11- 7, 11-8, 11-8, 11-8) in her roundof-64 contest.
She moves on to the next stage where she will take on Suthasini Sawettabut of Thailand, who had a bye in the opening phase.
Also with a bye was Bahrain's Amruta, but she will face a big task against Yubin Shin of South Korea in the round of 32. Both matches for Maryam and Amruta will be held today.
On the distaff, Rashed was a 4-0 (11-8, 11-9, 11-5, 11-3) victor against Ebrahim Abdulhakim Gubran of Yemen in the round of 64. He moves on to face Yew En Koen Pang of Singapore, who had a bye yesterday.
Joining him in the round of 32 is compatriot Alyassi, who was a 4-1 (11-6, 4-11, 15-13, 13-11, 11-7) winner yesterday against Moosa Munsif Ahmed of the Maldives.
Alyassi will next play Chun Ting Wong of Hong Kong today. Meanwhile, in yesterday's mixed doubles round of 32, Alyassi and Amruta lost to Wang Chuqin and Sun Yingsha of China 0-3 (3-11, 5-11, 6-11); while in the same stage, Rashed and Maryam bowed out to Kwan Kit Ho and Lee Ho Ching of Hong Kong 0-3 (9-11, 5-11, 6-11).
Bahrain's paddlers also begin action in the doubles competitions today.
In the men's doubles round of 32, Salman Mohammed and Sayed Murtadha take on Pang and Izaac Quek Yong of Singapore, while Alyassi and Rashed face off with Hong Kong's Wong and Ho.
In the women's doubles round of 32, Maryam and Amruta play South Korea's Eunhye Lee and Ha Eun Yang.
Shooting
In the shooting competitions yesterday at the Hangzhou Asiad, Bahrain's Safa Al Doseri was 33rd, Fawzia Mohamed 38th and Sara Al Doseri was 40th in the women's 50m rifle three positions qualification.
Safa finished with a total of 572-19x with an average of 9.533 from her kneeling, prone and standing scores.
Fawzia had a 568-14x total and a 9.467 average, while Sara finished with a 563- 13x total and 9.383 average.
In the women's 50m rifle three positions teams' category, Safa, Fawzia and Sara were ranked 11th overall with a total of 1,703.
In the women's skeet qualifications, Maryam Alasam came 12th following the completion of stage two with a 113 total from her five rounds.
Bahrain's Maryam Hassani was 20th with a 107 total, while Latifa Alnajem came 22nd on a 103 score.
In the women's skeet team contest, Alasam, Hassani and Latifa were sixth with a combined total of 323.
Finally, in the men's skeet qualifications, Bahrain's Tammar Alwatt finished 27th with a total of 113 following yesterday's second stage.
Sailing
Also at the Hangzhou Asiad yesterday, Bahraini sailors Abdulla Janahi and Khalifa Al Doseri signed off from their competitions, finishing ninth in their respective dinghy fleets.
Janahi took his place in the men's dinghy event with 68 net points from a 78 total.
His best finish in the fleet's 11 races was second in race nine.
For Khalifa, he claimed ninth in the boys' dinghy fleet with 84 net points and a 97 total.
His best of the fleet's 11 races was fourth in their final outing at Ningbo Xiangshan Sailing Centre.