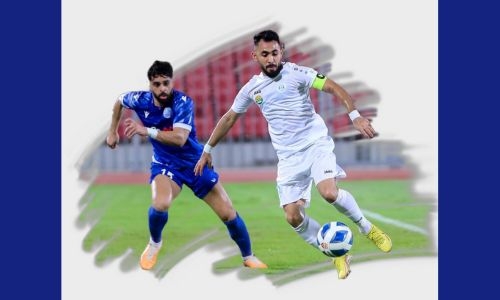 TDT | Manama
The Daily Tribune – www.newsofbahrain.com
Riffa posted a resounding 4-1 victory over Hidd last night to kick off the second week of action in the 2023/2024 Nasser bin Hamad Bahrain Premier Football League.
Komail Al Aswad had a brace, while Joel Vinicius Silva Dos Anjos and Abdulaziz Khalid Al Mansoori were also on target for the victors.
Ahmed Yousef scored the lone consolation for Hidd.
Al Aswad opened the scoring in the 11th minute with an effort from close range.
He received a pass from Magdy Ahmed and slotted the ball home.
Dos Anjos later made it 2-0 in the 41st minute off a clearance attempt by the Hidd defence.
The ball bounced back towards Dos Anjos and he made no mistake with his shot on goal. Just two minutes later, Yousef cut the deficit with a header off a long cross supplied by Atton Paved from the right.
But Riffa struck again in the 72nd minute with an Al Mansoori strike from the edge of the area to make it 3-1.
Al Aswad then applied the final nail in the coffin with a goal in a quick counterattack in the sixth minute of second-half stoppage time.
Riffa posted their first win of the season with the result while Hidd suffered their second defeat.
League play continues tonight with two matches, and tomorrow with another three.
This evening, Manama take on Al Hala and Al Najma face off with Al Shabab.
Then, tomorrow night, East Riffa play Busaiteen, Al Ahli take on Sitra and defending champions Al Khaldiya go up against Muharraq in a mouth-watering clash between two top contenders.
All of the games are scheduled for simultaneous 7pm kick-offs.