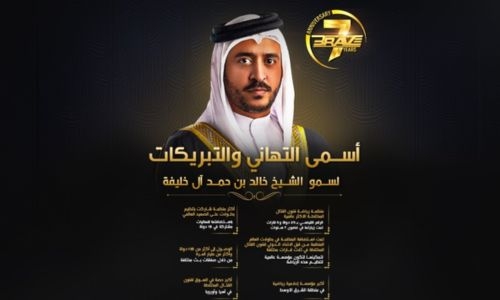 BRAVE CF Bahrain brand with international dimension
TDT | Manama
The Daily Tribune – www.newsofbahrain.com
The BRAVE CF organisation, founded by His Highness Shaikh Khalid bin Hamad Al Khalifa, First Deputy Chairman of the Supreme Council for Youth and Sports, Chairman of the General Sports Authority and President of the Bahrain Olympic Committee, has become the leading international mixed martial arts organisation globally.
Its vision, supported by HH Shaikh Khalid, has helped Bahrain achieve global prominence in mixed martial arts, a significant achievement for the kingdom.
BRAVE CF is the largest sports brand established in the Gulf Cooperation Council (GCC), the largest Bahrain-promoting brand, and the kingdom's largest international brand. It is also the largest media property in Bahrain and a key player in bilateral ties.
It has set records as the most-viewed sports brand in Bahrain on digital media.
The Bahraini organisation, BRAVE CF, is thriving under the vision of HH Shaikh Khalid, raising Bahrain's flag globally and at the highest levels in combat sports, thanks to its recent partnership with the International Mixed Martial Arts Federation, making it the only Bahraini organisation to do so.
Bahrain has gained recognition at both continental and international levels for its mixed martial arts, with President Mohammed Qambar being the first president of a specialised Asian federation, and one of Bahrain's representatives at the Continental Federation in Sports.
The Bahrain Mixed Martial Arts Federation (BMMAF) operations team has excelled in providing the highest level of organisation for international events and activities in the Kingdom, as it was called to work on two other continents, to provide its world-class expertise in Europe (Serbia) and South America (Colombia).
The Bahraini team has achieved a significant milestone in mixed martial arts, ranking first in amateur mixed martial arts. This achievement is unprecedented for the Bahraini team, following its success in winning over 100 medals at the International Federation of Mixed Martial Arts level, including numerous world championships.