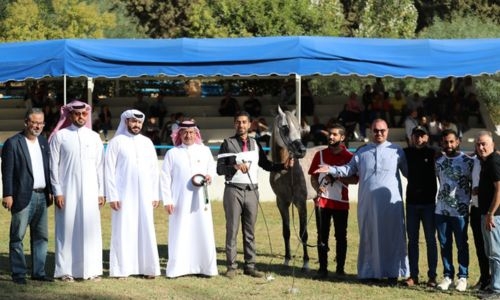 BREEF's Horse Beauty Team shine in Middle East Championship
TDT | Manama
The Daily Tribune – www.newsofbahrain.com
The Bahrain Royal Equestrian and Endurance Federation's (BREEF) Horse Beauty Team achieved remarkable results on the first day of the Middle East Championship for Purebred Arabian Horses, organised by the Royal Jordanian Equestrian Federation.
The competition, being held from September 14 to 16, took place at the Amman Equestrian Center in the Hussein Youth City, Jordan, featuring wide participation.
The Bahraini participation stood out prominently in the championship, as the positive results are an extension of the achievements of Bahraini Arabian horses in international arenas, having recorded several successes in the past period.
The exceptional foal Al Layal, representing BREEF, won first place in the two-year-old category with a score of 90.81.
Al Layal outperformed a selection of participating foals, exhibiting outstanding performance amidst significant encouragement from the spectators who greatly admired his capabilities and impressive performance, leading to a high score from the judges.
The foal Aura Al Hitan, representing BREEF, achieved second place in the three-year-old foal section - Class A category with a score of 90.81.
The competition was fierce, with a narrow margin separating Aura Al Hitan from the firstplace winner.
The foal AMS Shahin, representing BREEF, secured second place in the three-year-old category - Class B category with a score of 91.19.
Bahraini owner Hamad Bu Fars participated with his filly B.F.S. Shumookh in the three-year-old fillies category, in which she achieved fourth place in the championship with a score of 90.75.