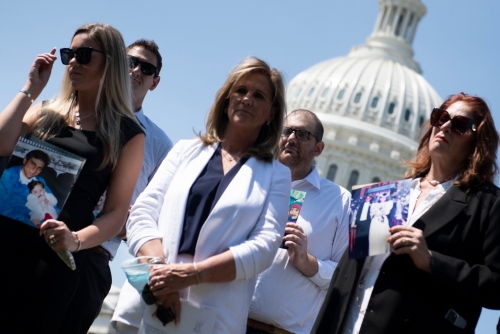 Families of 9/11 victims slam PGA Tour merger with Saudi-backed LIV Golf
AFP | Washington
The Daily Tribune – www.newsofbahrain.com
The 9/11 Families United coalition condemned the "hypocrisy and greed" of US PGA Tour leaders after the bombshell announcement on Tuesday that the Tour will merge with Saudi-backed LIV Golf.
The organization -- a group of survivors and the families of victims of the September 11, 2001 attacks -- said in a statement it was "shocked and deeply offended" by the merger.
"Saudi operatives played a role in the 9/11 terrorist attacks and now it is bankrolling all of professional golf," the organization said.
Terry Strada, the 9/11 Families United chair whose husband, Tom, died in the attack on the World Trade Center, specifically called out PGA Tour commissioner Jay Monahan for "betraying" the 9/11 community.
"Mr. Monahan talked last summer about knowing people who lost loved ones on 9/11, then wondered aloud on national television whether LIV Golfers ever had to apologize for being a member of the PGA Tour.
"They do now -- as does he," Strada said. "PGA Tour leaders should be ashamed of their hypocrisy and greed.
"Our entire 9/11 community has been betrayed by Commissioner Monahan and the PGA as it appears their concern for our loved ones was merely window-dressing in their quest for money -- it was never to honor the great game of golf."
Strada and 9/11 Families United have been outspoken in criticizing LIV Golf since its formation.
They have been a presence at LIV Golf events in the United States, insisting that Saudi Arabia should be held accountable for a role in the attacks in which hijackers flew planes into the towers of the World Trade Center in New York and other targets, leaving thousands dead. Fifteen of the 19 hijackers in the attacks were Saudi citizens.
"PGA Commissioner Jay Monahan co-opted the 9/11 community last year in the PGA's unequivocal agreement that the Saudi LIV project was nothing more than sportswashing of Saudi Arabia's reputation," Strada said.
"But now the PGA and Monahan appear to have become just more paid Saudi shills, taking billions of dollars to cleanse the Saudi reputation so that Americans and the world will forget how the Kingdom spent their billions of dollars before 9/11 to fund terrorism, spread their vitriolic hatred of Americans, and finance al Qaeda and the murder of our loved ones."