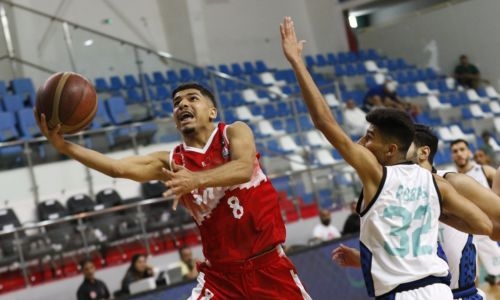 Sitra through to Khalifa bin Salman Cup semis
TDT | Manama
The Daily Tribune – www.newsofbahrain.com
Sitra advanced to the semi-finals of the 2022/2023 Khalifa bin Salman Cup last night following a scrappy 86-83 overtime victory over Nuwaidrat.
Their tightly contested quarter-final meeting in the prestigious annual basketball tournament was played at Zain Basketball Arena in Um Al Hassam.
Sitra were well in control of the contest midway through the final quarter and went up by 14 on a three-pointer by Mahdi Abdulameer.
But Nuwaidrat stormed back and forced the extra session with a furious 12-3 run in the final two minutes of regulation to tie the game at 75- all.
In overtime, Sitra went ahead by six but Nuwaidrat were able to rally once again and tie it at 83-all.
But Sitra finally were able to separate themselves from their opponents with one of two freethrows by Mohamed Abdulla and a pair from Abdulameer that peghed the final score.
Nuwaidrat had their chances to tie or take the lead over the game's closing moments, but they could not convert their field goal attempts.
Ali Eid was Sitra's leading scorer in the win with 28 points while also taking down nine rebounds.
Abdulameer added 16 while Abdulla and Ayman Kowayed each contributed 11.
For Nuwaidrat, Hassan Abbas had 26 while Abbas Jameel came off the bench to score 20 in the losing effort.
Sitra held a slim 18-16 advantage at the end of the first period but gradually extended the gap over the rest of the game.
They stayed in front 39-32 heading into the break, before powering ahead by double digits in the third period.
That set the stage for Sitra's end game woes before doing just enough in overtime to eke out the win.
Sitra now move on to the final four, where they await their opponents .
They will be playing the winner of the other round-of-eight contest between Al Hala and Muharraq.
Meanwhile, two first-round fixtures are set to be played tonight to determine two other teams that will be competing in the round of eight.
Defending league champions Manama will be playing Isa Town at 9pm, followed by Bahrain Club and Samaheej facing off at 10.30pm.
Elsewhere in the quarter-finals, three-time defending champions Al Ahli are set for an exciting clash against Al Ettihad on Saturday, scheduled for a 9.30pm tip-off.
This year's competition is the seventh edition of the Khalifa bin Salman Cup, which is held in honour of the late His Royal Highness Prince Khalifa bin Salman Al Khalifa.
Ahli are looking to add to their triumphs in 2020, 2021 and 2022 with an historic "four-peat" this season.