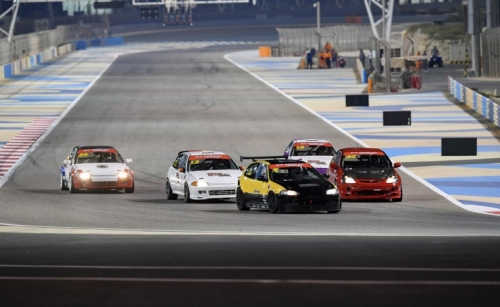 Buelow claims double victory in BIC 2,000cc Challenge penultimate round
Agencies | Manama
The Daily Tribune – www.newsofbahrain.com
Andreas Buelow shone brightest under the lights this weekend in the fourth and penultimate round of the 2022/2023 BIC 2,000cc Challenge. The round was held on National Race Day at Bahrain International Circuit (BIC).

Behind the wheel of a Honda CIVIC, Buelow stormed to an impressive double in the meeting. He won both 12-lap sprints held around the 2.554-kilometre Inner Track at "The Home of Motorsport in the Middle East".

The event was organised by BIC in cooperation with the Bahrain Motor Federation (BMF), Circuit Racing Commission (CRC), and the Motorsport Marshals Club.

Moaz Elzahrawi kicked the evening off by setting the pace in practice with an impressive lap of one minute 20.190 seconds. He then clinched pole position for race one with a fastest time of 1:18.831.

After starting the opening sprint from row two in third on the grid, Buelow took the lead on lap one and never looked back. He held on to his advantage throughout the 12 laps and built a huge gap from the rest of the field.

Buelow took the chequered flag in 16:10.413, with runner-up Wiebke Buelow 17.312 seconds behind.

Isa Ebrahim claimed the final podium spot in third in 21.320s from Buelow, while Elzahrawi had to settle for fourth 52.278s back. Majed Himmo finished fifth, 1:00.508 behind the winner.

Buelow posted a 1:19.272 lap in race one.

In race two, Buelow was on the third row with Himmo on pole. But in the end, Buelow emerged victorious in 16:23.633, enjoying a massive 40.094s gap from Ebrahim in second place. Himmo came third in 1:02.518s behind the victor.

Buelow was quickest on lap times, clocking the second race's fastest time of 1:20.854.

Following all the action, the winners were presented with their respective trophies in a podium ceremony attended by officials from BIC, BMF and CRC.

The BIC 2,000cc Challenge is now headed for its season-finale, scheduled for 7 April at BIC, also as a night event.