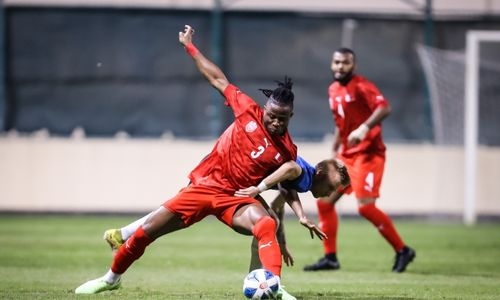 Bahrain Olympic team draw with Estonia in friendly
TDT | Manama
The Daily Tribune – www.newsofbahrain.com
Bahrain's under-23 Olympic team played to a 3-3 stalemate in an international friendly match last night against the under-21 side of Estonia.
The game was played at Hamad Town Stadium, and it was the first of two tune-up games against the visitors.
The Olympic team, coached by Dario Basic from Croatia, will be taking to the pitch again tomorrow for their second friendly.
The Bahrainis are using the games to help prepare for their qualifiers to the AFC U23 Asian Cup 2024, which are set to take place later this year.
All six goals last night were scored in the second half, with the Estonians scoring a late equaliser.
Basic named a starting 11 in yesterday's game that included Abdulla Ali Efrih in goal, along with Vincent Emmanuel Ani, Salem Husain Ahmed, Ahmed Dheyaa Ali, Ali Omar Ali Kamel, skipper Husain Abdulkarim Mubarak, Ahmed Abdulhameed Ahmed, Abdulla Ali Alsubaiei, Abdula Nemer Almesaeed, Ali Mohamed Redha Hasan and Khalifa Issa Allafi Yusef.
Estonia head coach Sander Post had Kaur Kivila in goal at kick-off, along with Kristo Hussar, Rasmus Kalla, Tanel Tammik, Danil Kuraksin, Jasper Reilson, Nikita Mikhailov, Tristan Toomas Teevali, Alexander Shapovalov, Nikita Ivanov and Patrick Genro Veelma.
The Olympic team lost 0-1 and drew 1-1 to Jordan in two friendly matches last January.
Meanwhile, Bahrain's senior men's national team are set to face off with Palestine tonight in their own international friendly match.
The game is scheduled for a 9.30pm kick-off.
It is the first of two tune-ups over the coming week for the senior squad.
They also play Syria on Tuesday.
They are using the matches to prepare for their upcoming competitions, including the 2023 AFC Asian Cup, to be held in January of next year.