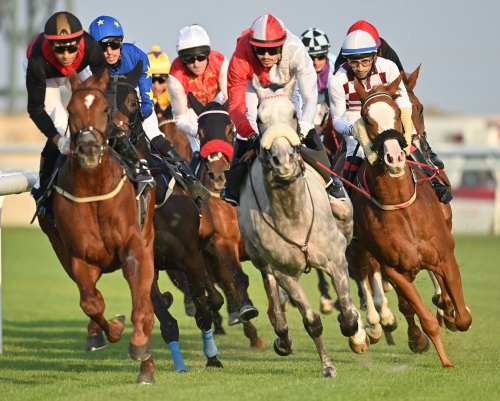 Bahrain Turf Series prize boost!
TDT | Manama
The Daily Tribune – www.newsofbahrain.com

Two British-trained horses have each won £25,000 after the conclusion of the second edition of the Bahrain Turf Series. The Bahrain Turf Series, which consists of 10 races run between December and February, saw 20 European horses compete against locally trained horses for £600,000 in prize money and £50,000 of bonuses.
Of the total £650,000 prize money on offer, European-trained horses returned home with £303,800 after winning five of the 10 series races. Following the disqualification of Hesham Al Haddad-trained racehorses from two Bahrain Turf Series race days on December 30 and January 13, Inigo Jones has been promoted to the top of the middle distance 'Pot B', off the back of his first place finish in The Dana Cup and third place finish behind Goemon in The Vision 2030 Cup.
Inigo Jones's owner Gary Allsopp Partnership has been awarded £15,000 and his trainer Jamie Osborne £10,000. In a British clean sweep, Nomadic Empire, who won the opening sprint race of the 2022/23 Turf Series and finished third in two further races, came out on top in 'Pot A' giving his trainer David O'Meara £10,000 and his owner Al Mohamediya Racing £15,000.
From the Bahrain Turf Series fixture on December 30, The Covex Kid, What A Welcome and Fighter Pilot had shown the presence of harpagoside, a herbal substance prohibited on race day when sampled post-race during the Rashid Equestrian and Horseracing Club's rigorous testing protocol and this was subsequently confirmed to be positive following B samples tested by LGC, Newmarket, UK.
Meanwhile, from the Bahrain Turf Series fixture on January 13, The Covex Kid and Mobaadel also were disqualified for the same prohibited substance. As a result, all five horses have been disqualified and the results of the respective races have been amended accordingly.
Lucander was the undoubted international star performer from the class of 2022/23. Bought for £60,000 in October 2022 and expertly trained by George Baker, he scooped £116,044 in prize money throughout the Bahraini season for owners Nigel Jones and Paul Bowden.
Lucander stormed to success in the opening Bahrain Turf Series race, The Muharraq Cup. He then finished fourth behind Tawaareq in The Adiyat Cup before stepping up in class to finish fourth in the Listed Crown Prince's Cup.
His final appearance of the Bahraini season was a career-best as he demolished a strong field, which included last year's King's Cup winner Zagato, to win by 2 3/4-lengths and scoop a lucrative prize. George Baker said: "The Bahrain Turf Series has been a great success once again. We will be back next year, we're committed to Bahrain. Our owners have committed to it. We've had three horses here this year, if we came back with six or seven next year that would be absolutely wonderful."