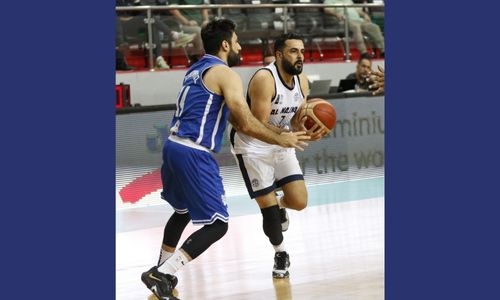 Najma oust Manama, Ahli rout Sitra
TDT | Manama
The Daily Tribune – www.newsofbahrain.com
Title contenders Al Najma and Al Ahli were both victorious last night in the 2022/2023 Zain Bahrain Basketball League.
Najma defeated defending champions Manama 92-89 while Ahli made easy work of Sitra 99-71.
Both winners have already secured their berths in the ensuing round-of-six playoffs, which is scheduled to begin shortly.
That will determine the Golden Square semi-finals.
In Najma's win, after Hussain Shaker buried a three-pointer to tie the game at 88-all, Nick Ward fired in a baby hook-shot with 48 seconds to play to give their team the slim, two-point advantage.
Manama's Mohammed Ameer then made one of two freethrows, but then Mohammed Buallay sank his own pair of charities with 10 seconds left to extend Najma's lead to 92-89.
After a timeout, an Ahmed Salman three-point attempt clanked off the rim and Najma were able to close the game out.
Ward finished with a monster 37 points for Najma in their big win, which was their 13th in 19 games.
Mohammed Hussain added 17, Buallay 16 and Ali Jaber 12.
Ahmed Aldurazi had 25 points and Hasan Nowrooz 24 for Manama, who suffered their fifth loss and ended their regular season campaign with 15 wins.
In Ahli's triumph, they raced out to a commanding 32-18 lead at the end of the first quarter and never looked back, enjoying a biggest lead of 39 points.
Wayne Chism and Hesham Sarhan both had 20 points in the contest, with Chism grabbing 22 rebounds.
Ali Aqeel chipped in with 16 markers, while Elias Abdulla had 13.
Maitham Jameel had just nine points but dished out eight assists for Ahli, who improved to a 15-4 win-loss record with a game to play.
For Sitra, Mohamed Abdulla and Abbas Fadhel Jasim each scored 17 as they suffered their 15th loss in 19 tries.