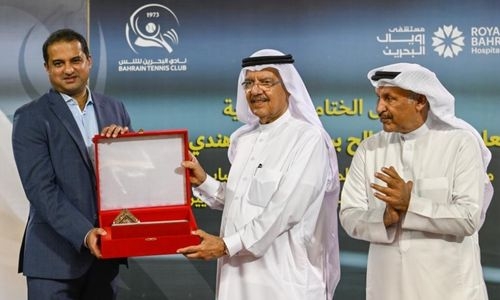 Winners of BTC Tennis Classic Championship honoured
TDT | Manama
The Daily Tribune – www.newsofbahrain.com
Under the patronage of Saleh bin Isa bin Hindi Al Manaei, HM King's Advisor for Youth and Sports Affairs, the Bahrain Tennis Club (BTC) Tennis Classic Championship concluded on Thursday. The closing ceremony of the event was held in the presence of many dignitaries and VIPs, during which Al Manaei honoured the winners of the Championship.
The event was sponsored by Royal Bahrain Hospital, and among the attendees were HE Shaikh Abdulaziz bin Mubarak Al Khalifa, President of BTC, Dr Sheriff Sahadulla, the Chief Executive Officer of KIMS Healthcare Group, Dr Faisal Al Mosawi, Khamees Mohammed Al Muqla, Chairman of the Bahrain Tennis Club, Nasser Mohammed, Head of Alayam Sports Section and Tawfiq Al Salehi, Director of HH Shaikh Nasser bin Hamad Al Khalifa Media Office and Information Centre.
The games of the event have been officiated by Bahraini international referee Ahmed Al Hawaj. "It's a privilege to be the patron of this event," Bin Hindi said, highlighting the contributions of the Bahrain Tennis Club in developing the tennis sport in Bahrain. He also hailed the wide participation the event feature. The event included various categories and saw participants from various ages take part, starting from 30 years old and up to 65 years old from both genders.