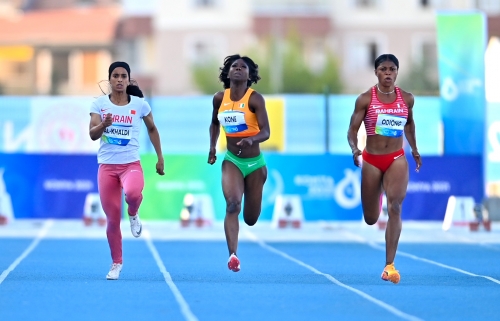 Bahrain add two medals in Konya
TDT | Manama
The Daily Tribune – www.newsofbahrain.com
Bahrain added two medals yesterday on the second day of the athletics competition at the fifth Islamic Solidarity Games, being held in Konya, Turkey. After winning four medals on day one, including one gold, one silver and two bronze medals, the Kingdom's elite international athletes claimed another gold and one more silver medal yesterday on the track.
Edidiong Odiong clinched the women's 100 metres title while Aminat Jamal won the silver medal in the women's 400m hurdles. Their medal hauls brought Bahrain's tally so far at the Games to six.
Birhanu Balew had earlier won a gold in the men's 5,000m, while Bontu Rebitu won a silver medal in the women's 10,000m while Ruth Jebet claimed a bronze in the same race. Abdelrahman Mahmoud was another bronze-medallist on the first day, taking his medal in the men's shot put.
Action on the track and in the field continue today until Friday. In yesterday's races, Edidiong claimed her 100m title after finishing the final in 11.03 seconds. It was a new national record for Bahrain, as Edidiong eclipsed the old mark of 11.05s, which was also set by her in May earlier this year.
Fellow-Bahraini sprinter Hajar Alkhaldi was also in the sprint. She narrowly missed out on a medal finish, taking fourth place overall in 11.18s. In the 400m hurdles, Aminat captured her silver medal in a time of 11.18s.
Also as part of yesterday's athletics events, Bahrain's winners from day one received their respective medals, including Balew, Bontu, Ruth and Mahmoud. Today, a number of Bahraini athletes will be looking to go for gold in their events.
Among them are Winfred Yavi and Tigest Mekonin in the women's 3,000m steeplechase finals, John Kibet in the men's 3,000m steeplechase final, Musa Issa and Abbas Ali in the men's 400m final, and Dawit Fikadu and Albert Rop in the men's 10,000m final, to name a few.
Meanwhile, the official opening ceremony of the fifth Islamic Solidarity Games took place last night at Konya Metropolitan Municipality Stadium. Bahrain's national team took part in the inauguration, being among the 57 competing countries at the multi-sport meeting.
Shooters Saeed Hassan and Maryam Al Sulaiti had t h e honour of carrying the Kingdom's flag during the event's parade of nations. In attendance was Bahrain Olympic Committee secretary general Faris Al Kooheji along with a number of other officials from the Kingdom's delegation in Konya.
The Kingdom's top sportsmen and women are competing in six sports at this year's Games, including athletics, shooting, judo, cycling, wrestling and weightlifting. The Bahrainis are looking to add to its impressive medal haul from past editions of the Games.
National athletes had won 28 medals in the multi-sport event, which had taken place in 2005, 2010, 2013 and 2017. The Bahrainis claimed 14 gold medals, six silver and eight bronze medals in all.