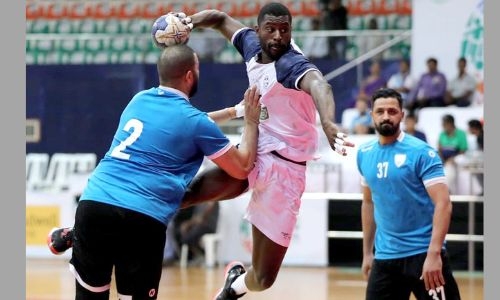 Najma through to Asian clubs handball semis
TDT | Manama
The Daily Tribune – www.newsofbahrain.com
Bahrain's Al Najma barged into the semi-finals of the 24th Asian Men's Club League Handball Championship yesterday as Group B winners, following their concluding game in the preliminary round of the competition, currently being held in Hyderabad, India. Najma were held to a 24-all stalemate by Qatar's Al Wakrah to claim a share of the points on their divisional table. It was their first draw after opening the tournament with back-to-back wins.
They thus finished the group stage with five points from three games, earning them the top spot in Group B and their place in the final four. There, they will take on Al Arabi of Qatar, who finished as runners-up in Group A. That contest is scheduled for tomorrow at 5.30pm, Bahrain time.
The other semi-final will be an all-Kuwaiti match-up between Group B runners-up Al Kuwait and Group A winners Al Qadsia. Kuwait secured their place in the next round following a 30-17 win over Mes Kerman of Iran in yesterday's other divisional fixture. They advanced behind Najma, while Wakrah and Mes Kerman were eliminated from title contention. Najma and Wakrah were deadlocked yesterday at 9-9 heading into the half-time interval.
The Bahrainis were spearheaded in the contest by the likes of Ali Eid, Mohammed Habib Naser, Mohammed Mirza, Mahdi Saad, Hasan Al Fardan, Ahmed Fadhul, and the French trio of Alix Kevynn Nyokas, Oliver Nyokas and Bakary Diallo, and goalkeeper Mohammed Abdulhussain.