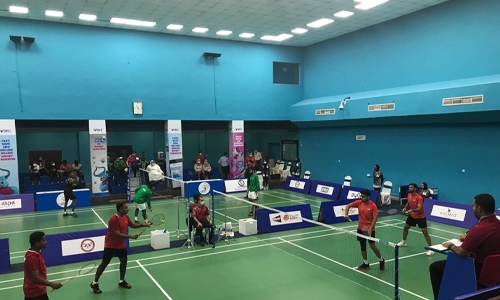 International Series badminton gets underway at Indian Club
TDT | Manama
The Daily Tribune – www.newsofbahrain.com
The qualifying round for the Bahrain International Series Badminton Tournament 2021 got underway last night as live international sport returned to the Indian Club.
An appreciative and knowledgeable audience saw some exciting action as players looked to play their way into the main draws, which are due to start on Friday.
Sadly, the crowd did not get to see a local victory, as Elyas Jaffer, brother of Bahrain and Arab number one Adnan Ebrahim, went down in the Men's Singles to Syabda Perkasa Belawa from Indonesia in straight sets and then lost in the Mixed Doubles with his South African partner, Sandra Le Grange.
The Indian Club's very own Jayakumar Pullani also lost, with he and his partner Christopher Kanasseriyil Basteen being knocked out of the Men's Doubles by Mittal and Sharma, the number three qualification seeds from India.
There are some strong players in the qualifying competition this time around with the pandemic causing a similar range of "unusual" movements in badminton's world rankings as it has in other sports. That is one of the reasons why BIS 2021 has attracted so many players – the all-important ranking points that are on offer.
Yesterday evening also saw the tournament's inauguration, with the Indian Club welcoming Bahrain Badminton and Squash Federation (BBSF) president Dr Sawsan Haji Taqawi as chief guest, together with BBSF secretary-general Hesham Al Abassi and a number of the event's sponsors and other VIP guests.
The main sponsors for the event include The Benefit Company, The Orange Media Group, Kolmaz Perfumes, African Eastern, Berger Paints Bahrain, Eram Floors, Gulf Agencies, ASPA Management Consultancy, Spectra Information Technology, Mark Seven Branding & Advertising, Miller International Loss Adjusters and Surveyors, Value Line, Aqua Clear and Orange Bakery.