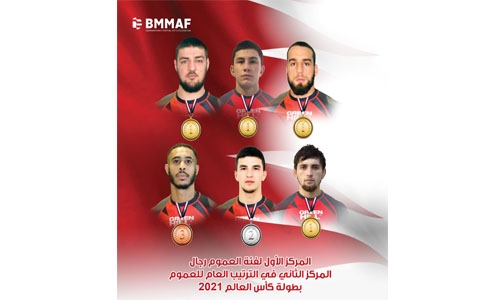 Team Bahrain makes history
TDT | Manama
The Daily Tribune – www.newsofbahrain.com
It was a historic moment for sports in the Kingdom of Bahrain as the mixed martial arts team representing the nation reached a historic landmark of 102 medals, winning six medals at the MMA World Cup, which took place in Prague, Czech Republic.
The extensive number of medals meant that Team Bahrain took the leading position at the MMA World Cup, with the number one ranking for the tournament in the Male divisions, thanks to the efforts of His Highness Shaikh Khalid bin Hamad Al Khalifa, who celebrated the success of Bahrain through social media.
The historic 100th medal was won by Abdulla Mubarak, who earned bronze in the Bantamweight division. The young Bahraini was then joined by two other competitors after three other fighters had earned medals to get Bahrain within sight of the pivotal record. In total, Team Bahrain won six medals at the MMA World Cup.
Aside from Mubarak, Murad Ibragimov won Silver at Junior Bantamweight, with four gold medals wrapping up a success story for the Kingdom in Prague.
The world cup champions are as follows: Rasul Magomedov at Heavyweight, Magomedzagid Magomedov at Light Heavyweight, Gimbat Magomedov at Junior Lightweight, and Mansur Magomedov at Flyweight.