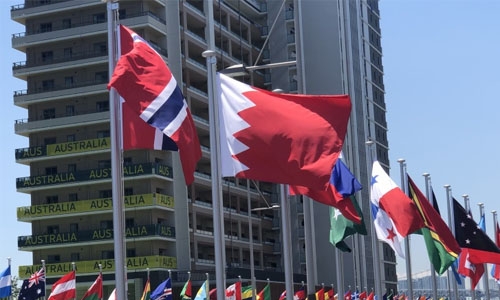 Historical participation for Bahrain in the Olympic Games
Agencies| Tokyo
The Daily Tribune – www.newsofbahrain.com
Bahrain will tomorrow mark its 10th participation in the Olympic Games since 1984.
The kingdom's delegation to the Olympic Games Tokyo 2020 comprises 68 members, including officials and athletes, in addition to technical, administrative and media personnel.
Bahrain will, for the first time, compete in five sports, namely athletics, handball, boxing, swimming and archery.
The Bahrain national handball team is the representative of the Asian continent, along with hosts Japan.
Meanwhile, the kingdom participates in boxing for the first time, through boxer Danis Latypov.
Bahrain has won three Olympic medals, including two gold medals by runner Maryam Yusuf Jamal in the women's 1500 metres at the 2012 London Olympics, and runner Ruth Gibbett in the Women's 3000 metres steeplechase competition at Rio 2016 Olympics, in addition to a silver medal by runner Eunice Kirwa in the Rio 2016 Olympics' women's marathon.
Bahrain is looking forward to increasing its medal tally in the Tokyo Olympics, despite fierce competition and the difficult circumstances that have faced athletes due to the spread of the novel Coronavirus pandemic.
The kingdom's delegation is participating in the Olympic Games Tokyo 2020 under the name of "Team Bahrain' and the slogan "#For_this_flag", in line with the directives of the First Deputy Chairman of the Supreme Council for Youth and Sport, Chairman of the General Sports Authority and President of the Bahrain Olympic Committee, His Highness Shaikh Khalid bin Hamad Al Khalifa.