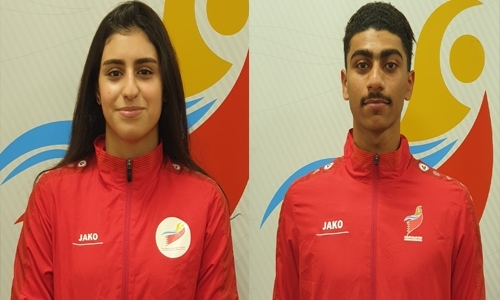 Bahrain swimmers already making waves at Olympic Games
TDT | Manama
The Daily Tribune – www.newsofbahrain.com
Teenagers Abdulla Isa and Noor Yusuf Taha are continuing Bahrain's tradition of sending its most talented young swimmers to the Olympic Games.
Eighteen-year-old Abdulla and 15-year-old Noor were both selected by the Bahrain Swimming Association (BSA) for Tokyo after Bahrain received an invitation from the International Swimming Federation (FINA), to send two top-ranked swimmers of each gender to compete in their respective individual events.
Abdulla and Noor are thrilled with the opportunity to represent the Kingdom in XXXII Olympiad and are looking to make the most of the experience.
"Every time I hold my country's flag, and wear it behind my back, I feel very proud," says Abdulla, who will be contesting the Men's 100m Butterfly. "It's a big honour to represent my country." Noor, who will compete in the Women's 50m Freestyle, shares Abdulla's sentiments.
"It's something unbelievable to compete at the Olympic Games, especially at this young age," she says. "It is a great honour to be representing my country. I am going to try all my best to achieve high records and make everyone proud."
Abdulla: National record-holder in Butterfly
Abdulla got his start in swimming at the age of six with the help of his uncle, who was a coach at the time. "He was going to the pool every day and I thought it was fun, so I told him to one day take me with him and teach me how to swim. "I started to join national competitions outside Bahrain.
I wasn't very good at first; I wasn't even bringing third place. But year after year, I started to bring bronze medals, and then the year after silver medals, and now I can bring gold easily." Abdulla is now the national record-holder in all distances for the Butterly. His best in the 50m is 26.69 seconds, the 100m 58.44s and in the 200m is two minutes 12.69 seconds.
The Bahrain Polytechnic student said that he developed his Olympic aspirations at a young age, and thanks to his fine showing at the 18th FINA World Championships 2019 in South Korea, he will soon be living his dream. "I saw the other older swimmers go to the Olympics and represent Bahrain; it was a dream for me. Now, it's coming true," he smiles.
Noor: Striving for greatness
Noor's journey in the sport began when she was just four years old when her mother encouraged her to learn how to swim. "Ever since then, I liked the sport and kept going, and my passion for swimming grew only stronger," Noor says.
"My coach saw that I was training well and that I had a good chance to become a good swimmer, and he started to motivate me even more." Noor's hard work began to pay off as she began to swim competitively and win medals.
"Whenever I would compete, I would achieve my goals and break my records," says the Al Wisam School pupil. "That kept me motivated and kept me going, especially whenever I won a medal.
It just made me happy, and the feeling of being in the water is just amazing." Noor earned her Olympic invitation following her impressive showing at the seventh FINA World Junior Swimming Championships 2019, held in Hungary.
She heads to the Olympics with a personal best time of 29.42s in the 50m Freestyle, and 1:06.92 in the 100m Freestyle.
Bahrain's young swimmers at Olympics
This year's Games will mark the sixth straight Olympics where Bahraini swimmers are competing, and seventh overall. At the previous Olympiad in Rio de Janeiro in 2016, the Kingdom was represented in the pool by Farhan Saleh, aged 19 at that time, and Fatema Almahmeed, who was aged 17.
In 2012 in London, Bahrainis Khalid Alibaba (15 at the time) and Sara Al Flaij (17) took part; in 2008 in Beijing, Bahrain was represented by Omar Jasim (17 at the time) and Sameera Al Bitar (18); in 2004 in Athens, Hesham Shehab (16 at the time) and Sameera (14) participated; and in 2000 in Sydney, Dawood Jassim (15 at the time) and Fatema Hameed Gerashi (12) were the Kingdom's Olympians.
Fatema was the youngest competitor of any event and any nationality at the Sydney Games. Bahrain's first appearance in swimming was in 1984 in Los Angeles, when Hamad Bader and Esa Fadel competed.
The Tokyo Games are scheduled to take place between July 23 and August 8. More than 200 nations are expected to take part, vying for medals in over 300 events across more than 30 sports.