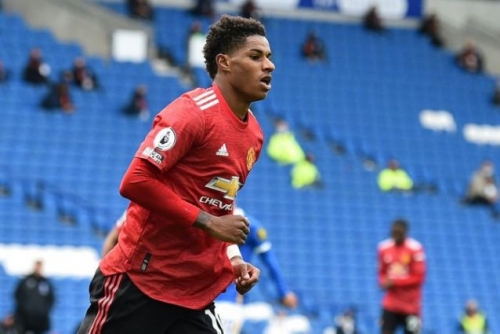 Rashford tops list of UK honours for key virus workers
London
Manchester United footballer Marcus Rashford was honoured by Queen Elizabeth II on Friday in recognition of his campaign to feed vulnerable children, alongside hundreds of key workers who helped in the fight against the coronavirus. The England international is one of the highest-profile figures in the monarch's birthday honours list, which was postponed from June in order to include frontline health workers and others in the Covid-19 effort.
The 22-year-old forced a government U-turn over its free school meals policy, ensuring children in need would receive meal vouchers throughout the summer months, and has formed a child food poverty task force. Rashford, who has been made a Member of the Order of the British Empire (MBE), said he was "honoured and humbled" to receive the award. "Let's stand together in saying that no children in the UK should be going to bed hungry," he said. "As I have said many times before, no matter your feeling or opinion, not having access to food is never the child's fault."
Fitness expert Joe Wicks, whose daily online exercise sessions drew millions of viewers across the globe, is also being made an MBE. Rapper Lady Leshurr is being awarded the British Empire Medal after releasing a coronavirus-related song this year reminding people to wash their hands. Neymar's attempts to join retired great Ronaldo as Brazil's second highest scorer of all time were frustrated by an offside flag and an injury time save by Lampe Manchester United's Marcus Rashford is seen during a match (file photo) Novak Djokovic hits a return against Stefanos Tsitsipas 55 matches have been played between Novak Djokovic and Rafael Nadal out of which eight were Grand Slam finals 'Spot on' Bottas edges Hamilton to take pole at Eifel GP • Finn faster than Briton by 0.256sec at the Nurburgring • Verstappen third for Red Bull, Ferrari's Leclerc fourth AFP | Nurburgring Valtteri Bottas produced a blistering track record on his final qualifying lap yesterday to edge Mercedes teammate Lewis Hamilton and claim pole position for the Eifel Grand Prix.
Bottas clocked a best lap of one minute and 25.269 seconds to beat the championship leader by two-tenths of a second in very cold conditions following only one practice session after Friday's running was cancelled due to fog. It was Bottas's third pole this year and the 14th of his career, a feat that he hopes can help him keep alive his championship challenge. After winning in Russia two weeks ago he lies 44 points be-hind Hamilton.
The two 'black arrows' were pushed all the way by Red Bull's Max Verstappen, who lost grip on his final run and wound up third ahead of Charles Leclerc of Ferrari and Alex Albon in the second Red Bull car. "It is such a nice feeling when you do it on the last lap –- my last lap was spot on," said Bottas. "It's been pretty tricky with short practice and these conditions getting the tyres in the sweet spot, that was one of the bigger things today. The chilly autumn weather has shaped practice and qualifying. Friday's practice sessions were wiped out by fog and rain. "I believe I can win," said Bottas. "That's the only goal for tomorrow and hopefully we can have a good start." Hamilton, who needs just one victory to equal Michael Schumacher's record of 91 Grand Prix victo-ries, had to settle for second on the grid. "Valtteri is two-tenths ahead and he did a good job, so congratulations to him," he said. "There is plenty of time for me to regain… Daniel Ricciardo was sixth ahead of his Renault team-mate Esteban Ocon, Lando Norris of McLaren, Sergio Perez of Racing Point and Carlos Sainz in the second McLaren. Shortly before qualifying, Racing Point announced that Nico Hulkenberg would step in for Lance Stroll who was "unwell". Hulkenberg, who covered for Stroll's teammate Sergio Perez at Silverstone, was called at short no-tice from a Cologne cafe. Without any practice, he qualified at the back of the grid.
The session began in bright, cold conditions with the air temperature struggling to exceed 10 de-grees, but no repeat of the fog and rain that led to the cancellation of both practice sessions on Friday. Hulkenberg was one of the drivers out early in the session to familiarise himself with Stroll's set-tings and the circuit before Verstappen set the pace for Red Bull, topping Bottas and Hamilton with Leclerc fourth. The 'super-sub' pushed, but it was asking too much of Hulkenberg and he failed to reach Q2 and qualified 20th, although his time was only 0.9 seconds shy of team-mate Perez in ninth. BRAVE CF unveils teaser for return of Lightweight world champion Cleiton ''Predator'' TDT | Manama Cleiton ''Predator'' has been out of action since August of last year after a historic title win at BRAVE CF 25. He ended his epic rivalry with Luan ''Miau'' Santiago by snatching the BRAVE CF Lightweight belt from his arch-enemy with a 40-second submission.
The fastest-growing MMA organization in the world has now unveiled a teaser on the return of its champion which is set to take place very soon. While no date and opponent have been revealed yet, Cleiton is not short of possible foes for his first title defense. BRAVE CF has one of the deepest Lightweight divisions, which has recently been beefed up by the addition of Roman Bogatov, from Russia. He joins a roster already containing the likes of Luan ''Miau'', English prodigy Sam Patterson, BRAVE CF Breakout Fighter of the Year John Brewin, Ahmed Amir, Akhmed Shervaniev, amongst others. In his next fight, ''The Predator'' can also make history by becoming the first-ever BRAVE CF Light-weight world champion to successfully defend his throne. The first champion Ottman Azaitar was stripped of the belt due to inactivity, and then Lucas ''Mineiro'' lost to Abdul-Kareem Al-Selwady in a unification title bout.
Al - Selwady wasthen knocked out by Luan Santiago in the beginning of last year, and ''Miau'' lost the title to Cleiton a few months later in the aforementioned BRAVE CF 25. BRAVE CF has put on 10 events so far in 2020, including seven of them taking place in Europe, with Slovenia, Romania, and Sweden being the homes of the organization in the continent. BRAVE CF has persevered during the Covid-19 pandemic and has put the strongest health and safety proto-cols to be one of the few organizations in world sports to return to its activities. All-round performance guide RCB to victory over CSK AFP | Dubai Spirited bowling performance by Royal Challengers Bangalore (RCB) guided them to a 37-run victory over Chennai Super Kings (CSK) at Dubai International Stadium. Chasing a moderate target of 170, CSK openers failed to provide a solid start as they went back to the pavilion early.
Washington Sundar scalped both Faf du Plessis (8) and Shane Watson (14) in fourth and sixth over respectively. Ambati Rayudu and IPL debutant N Jagadeesan played cautiously and stitched a partnership of 64-run for the third wicket. In the 15th over, Jagadeesan fell short of his crease and was run out by Chris Morris. Jagadeesan played a knock of 33 runs. Skipper Dhoni joined Rayudu in the middle and added a 17-run partnership for the fourth wicket. Dhoni (10) was bagged by Yuzvendra Chahal in the 16th over as he was trying to attack the spinner. Earlier yesterday, Kolkata Knight Riders bowlers staged a late comeback to defeat Kings XI Punjab by two runs in a nail-biting thriller. 12 SUNDAY, OCTOBER 11, 2020 3 poles positions have been achieved by Valtteri Bottas this season to make it 14 in his career BRAVE CF has elevated amateur MM