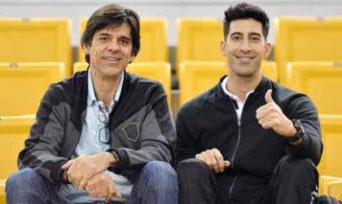 Bahrain coach Veloso to lead youth team
TDT | Manama
Bahrain's senior men's national volleyball team head coach Sergio Veloso from Brazil was yesterday announced as the coach of the youth national team. This was confirmed following a meeting of the Bahrain Volleyball Association (BVA) board of directors at the BVA headquarters in Riffa, headed by BVA president Shaikh Ali bin Mohammed Al Khalifa.
Veloso was signed on to take over the men's first team earlier this year, and must now also helm the youth squad. He has therefore been tasked to guide Bahrain in the 13th Asian Men's U18 Volleyball Championship, which is scheduled to take place July 7 to 14 in the Kingdom.
Aside from this, Veloso will also begin preparing the men's national team for their participation this June in the 22nd Arab Volleyball Championship in Tunisia, where the Bahrainis will be gunning for a third gold medal.
He will also be gearing them up for the third Gulf Games in Kuwait this December. Veloso has over 30 years' experience with Brazil's junior and youth national teams and clubs, and has helped develop the careers of dozens of Olympic and World medallists in volleyball.
Meanwhile, the BVA also confirmed Brazilian Issanaye Ramires Ferraz as head coach of Bahrain's junior national team for this year's GCC Championship, scheduled for July 22 to 31.
Known more popularly as just "Ramires" in Bahrain volleyball, he will be establishing a training camp in preparation for the Gulf tournament, which is also set to take place in Bahrain.
Coach Ramires had guided the Dar Kulaib men's team to great local and regional success recently. Also in attendance at yesterday's meeting were BVA vice-president Jehad Khalfan, BVA secretary general Feras Al Halwachi and the board.
As part of the agenda, the BVA decided to adopt the list of candidates for membership to the Asian Volleyball Confederation (AVC) executive committee and the working committees.
Shaikh Ali is to be nominated for the AVC executive committee, while Khalfan will be nominated as AVC financial auditor.
Mohammed Al Thawadi will be vying for membership in the AVC training committee, Ali Al Sayed for membership in the sports events committee, Mohammed Al Fardan for membership in the beach volleyball committee and Jaffar Ebrahim for membership in the AVC referees' committee.