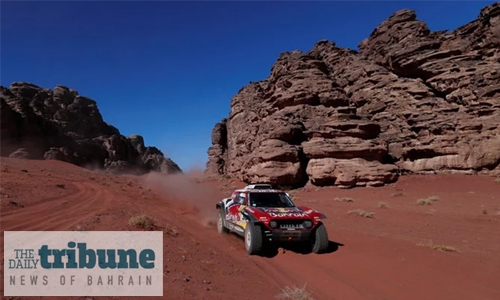 Bahrain JCW X- Raid Team's Carlos Sainz, with co-driver Lucas Cruz, claimed an impressive victory amongst the cars competitors yesterday in the third stage of the 2020 Dakar Rally in Saudi Arabia. Sainz steered their no. 305 challenger to first place after completing the 489-kilometre leg in three hours 48 minutes and one second.
They were more than threeand-a-half minutes ahead of their closest rivals Nasser Al Attiyah and Matthieu Baumel of Toyota Gazoo Racing. Bahrain JCW X-Raid teammates Stephane Peterhansel and Paulo Fiuza were classified seventh in their no. 302 car, more than 10 minutes behind Sainz and Cruz.
The world's most fearsome off-road race continued in the city of Neom yesterday, with 404km of the course marked as special. "I think it was a really nice stage, with fantastic landscapes," said Sainz. "There wasn't much time to see it, but it was really nice. Lucas did a really good job with the navigation and we really attacked hard. On the last part of the stage we were opening the way, but it was okay.
It's still really early though. "When you see racing on a day like this, anything can happen, you know. We spent a lot of time and a lot of kilometres pushing hard, but you never know - anything can happen any day. The navigation is also tricky, but so far, so good." Following yesterday's third stage results, Sainz and Cruz moved to the top of the general ranking for cars.
They have a combined time of 11:00:20 after three stages so far, and are nearly eight minutes ahead of second-placed Al Attiyah and Baumel. Peterhansel and Fiuza moved up to fifth on the standings. Stage four today will see the competitors leaving Neom as the race heads to Al-`Ula 676km away. It will be another challenging day when it comes to the overall classification, with a huge 453km marked as special.
The Dakar Rally, an annual event which was first launched in Paris 1979, ran from Europe to the Senegalese city it is named after for decades, then moved to South America in 2009, where it remained until this year's event. Saudi became the first country in the region to play host to the challenge, gaining the right to hold it for the next five years.
A total of 550 drivers from 62 nations are exploring the vast and formidable desert terrains of the largest country in the region.