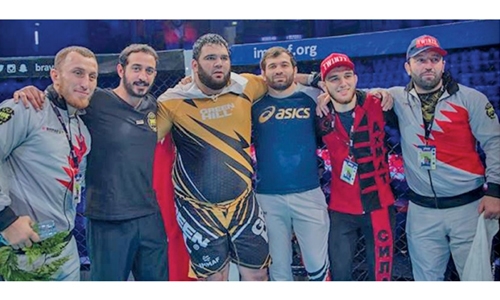 Bahrain crowned Team of the Year
The third edition of the BRAVE International Combat Week came to a close in a spectacular fashion for Team Bahrain, which maintained their number one spot in the MMA world and was crowned the Team of the Year in the IMMAF Awards.
After numerous attempts by other national teams to surpass Bahrain's incredible year, Bahrainis on the last day of competitions clinched a historic feat led by the incredible work of His Highness Shaikh Khalid bin Hamad Al Khalifa, the visionary in making Kingdom the biggest force today in mixed martial arts.
Maintaining the number one ranking was the work in the cage itself, with Team Bahrain winning four more gold medals on the last day of the competition. Sabrina Sousa emerged winner in Women's Featherweight division. Pasha Karkhachaev became a twotime world champion at Super Heavyweight, while Ramazan Gitinov and Murtaza Talha Ali won the world titles at Welterweight and Light Heavyweight respectively.
The glory obtained by Team Bahrain was completed with the Kingdom officially beating the likes of Kazakhstan, Ireland, and Russia, to be named the best Team in the world according to the IMMAF itself. Today, MMA is Bahrain, and Bahrain is MMA.