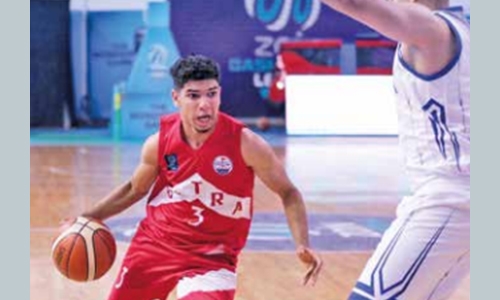 Nuwaidrat semi-final birth BBA Cup
Nuwaidrat punched their tickets to the semi-finals of the Bahrain Basketball Association (BBA) Cup last night following a 96-85 victory over Sitra in their final preliminary round game played at Zain Basketball Arena in Um Al Hassam. Nuwaidrat shrugged off a poor start and turned a 20-23 deficit after the first period to a narrow 46-44 advantage at the half.
They maintained their fine play in the last two quarters and led by as many as 14 points en route to the all-important victory. The result gave them their fourth win in five outings and it secured their spot in the last four. They are now in first place in Group A with nine points overall. Sitra suffered their third loss to go with two wins and have seven points, tied with Al Ettihad.
Hasan Madan was on fire for Nuwaidrat, scoring 36 points in the game including a redhot seven-of-nine from beyond the three-point line. Five other players were in double-figures for the winners, with Hassan Abbas scoring 17 off the bench and Ahmed Hassan 14. Jawad Abdulla added 13 and Mohammed Batti had 11 in the win.
Serbian Milos Macura paced Sitra in the loss with 25 points. Cup action continues tonight with a mammoth Group B clash between Manama and Riffa at 5.30pm. Manama have already qualified for the last four, while Riffa are trying to book the other berth from their division.