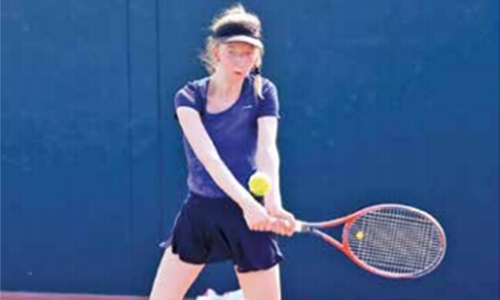 Endler-Trochu, Bartlett-Rook advance to doubles finals
The pairings of Mark Owen Endler and Pablo Trochu, and Aryana Bartlett and Olivia Rook have a chance to claim their second doubles titles in as many weeks after booking their tickets to their respective finals in the second Shine Bahrain Super Series ITF Junior Championship, being played at the Bahrain Tennis Federation in Isa Town.
Endler and Trochu defeated Andrej Jovanovic of Serbia and Felipe Mikkelsen 6-2, 6-4 to advance to the Boys' Doubles final, while Bartlett and Rook cruised past Yara Alhogbani of Saudi Arabia and Alexandra Maksimoa of Russia to make it to the Girls' Doubles final. In their title-decider, second seeds Endler and Trochu will face off with the fourth-seeded British duo of Alexander Knox Jones and Archie Graham.
It will be a rematch of the doubles final in the other ITF tournament played in Bahrain last week. Knox Jones and Graham earned their spots after beating top seeds Garv Bahl of India and Nicolas Moser of Austria 6-4, 7-5. In the Girls' Doubles, Bartlett and Rook will face the Egyptian pair of Jermine Sherif and Maria Atia, who upset second seeds Ananya Kothakota of the USA and Hrudaya Shah of India 6-4, 7-5.
The Girls' Doubles final will be held today not earlier than 2pm, while the Boys' Doubles final will start not before 3pm. Meanwhile, Trochu, Graham, Bartlett, Rook and Sherif will all have twice the work today as they all also advanced to their respective Singles' semi-final round.
There, fifth-seeded Trochu will take on Briton Matteo Fuschillo, while Graham will face Moser. In the Girls' Singles semis, Bartlett and Sherif will be locking horns while Rook will look to upset number one seed Hagar Ramadan of Egypt. All four singles semi-final matches will begin this morning at 9am.