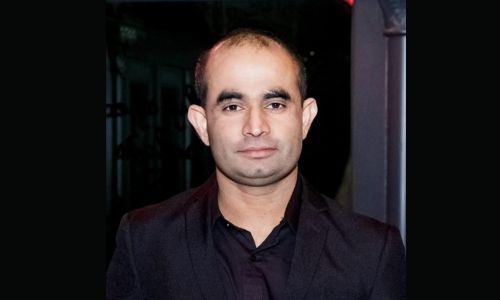 Fintech Pioneer Sabeer Nelli expands to Bahrain, cites it prime Fintech hub
TDT | Manama
The Daily Tribune – www.newsofbahrain.com
Sabeer Nelli, a distinguished US fintech entrepreneur and founder of Zil Money Corporation (https://zilmoney. com), is charting new territory in Bahrain as the launchpad to expand his innovative fintech solutions. The strategic decision stems from the Kingdom's favourable regulations, strong financial sector, and role as the gateway to the Middle East.
Bahrain's commitment to fostering growth in the fintech industry, particularly through efforts by the Bahrain Economic Development Board, has been a significant factor in Nelli's expansion.
He also acknowledged Bahrain's stature as a global hub for Islamic finance, stemming from the Central Bank of Bahrain (CBB) creating an ideal regulatory environment that has laid a solid foundation for sustainable fintech growth. "Bahrain's support for the industry through robust regulations aligns perfectly with my business ethics and the services I offer," said Nelli.
"We are considering potential collaborations that can help leverage our expansion in this region."
Zil Money Corporation, the parent company of www.OnlineCheckWriter.com, www.ZilBank.com, and www.ZilMoney.com, is committed to developing innovative payment technologies.
These solutions cater to evolving business needs while maintaining conformity with Shariah. Nelli founded Zil Money to address the struggles of small businesses in managing their finances.
His fundamental banking principles revolve around socio-religious guidelines, which resonate deeply with the Middle Eastern audience, hence his decision to expand business operations to Bahrain.
Through ZilBank, Nelli aims to assist Bahraini individuals and businesses who aspire to set up a bank account in the US.
His vision is to enable non-US residents to remotely establish a bank account in the US. ZilBank's fee-free checking account only requires business details and a valid passport to set up.
Other key advantages of ZilBank include managing multiple bank accounts through the platform, instant money transfers between ZilBank accounts, and efficient ACH and wire transfers.
Having a US bank account enables entrepreneurs to receive US dollars directly, opening the door to abundant global market opportunities.
"The financial service sector in Bahrain, being the second-largest industry after oil and gas, further solidifies why we've chosen the Kingdom as our business expansion platform," said Nelli.
Nelli recognizes the role of fintech in revolutionizing global financial services and promoting financial inclusion. His move to Bahrain highlights the agility of fintech firms to seize opportunities and adapt to diverse markets.
Nelli's success in Bahrain could inspire more fintech firms to consider expansion into the Kingdom. His strategic move benefits his enterprise and enhances Bahrain's position as a burgeoning fintech hub in the Middle East.