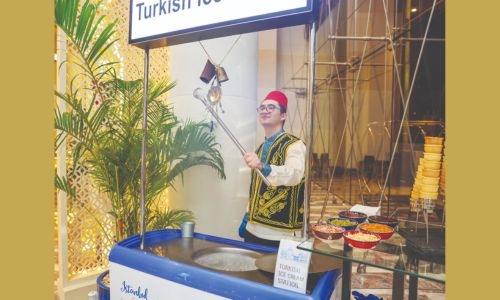 Baharat Mahya Ramadan - Eats and Treats by Tania Rebello
TDT | Manama
The Daily Tribune – www.newsofbahrain.com
The rich culture and heritage of Türkiye has awestruck people from all over the world. The fascinating history and landmarks of this beautiful country draws scores of tourists every year, thousands from Bahrain. "Mahya" is the tradition of displaying devotional messages on a string of lights from the soaring minarets of the Ottoman-era mosques.
This tradition is unique to Turkiye and dates back hundreds of years. Baharat, located at Le Meridien Hotel, has transformed its dining space into a mesmerising Turkish haven bursting with Turkish décor elements and unique culinary delights. The greeters welcomed me into the beautifully designed eatery.
The blue tile design on the walls reminded me of the Hagia Sophia, while light blue ceiling lamps with tassels were reminiscent of Fez/ Tarboosh, a Turkish hat. In keeping with the spirit of Ramadan, they have flown in a 3-piece band from Turkiye to play soothing stringed instruments.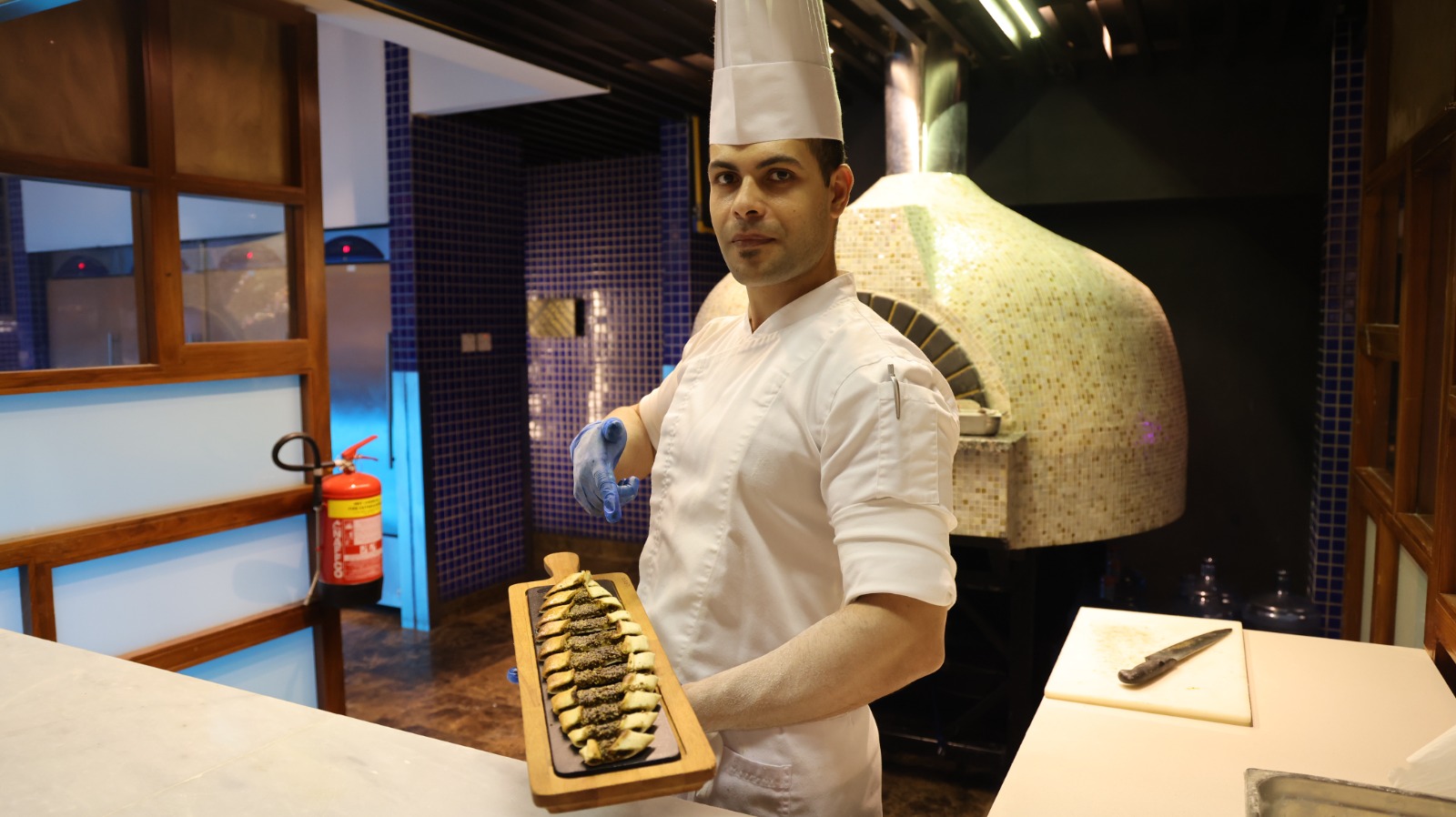 I began with a glass of water and a stride through the restaurant to feast my eyes on the beautiful food display while the aroma filled my senses.
A selection of dry fruits were placed on each table to break the fast. After a glass of cool and refreshing qamar-el-din, a drink made from apricot fruit leather, I plated up some appetisers and salads. I am quite fussy with salads but the salads at Baharat are truly tasteful.
Among a selection of the colorful variety of salads were a few salads and appetisers that I had never seen before. I decided to go with my regular choicesMutabel, babaganoush and dolma.
The chef introduced me to a variety of Turkish salads, two of which I need to highlight. Havuc Tarator is a carrot and yoghurt dip topped with dill, walnuts and drizzled with carrot oil. The carrots were sweet and the dip was creamy from the addition of yoghurt.
Walnuts gave it crunch and dill provided a pop of color. The next dip was köpoğlu which is a medley of eggplant and bell peppers accompanied by labneh, cherry tomatoes and slivers of radish as a garnish.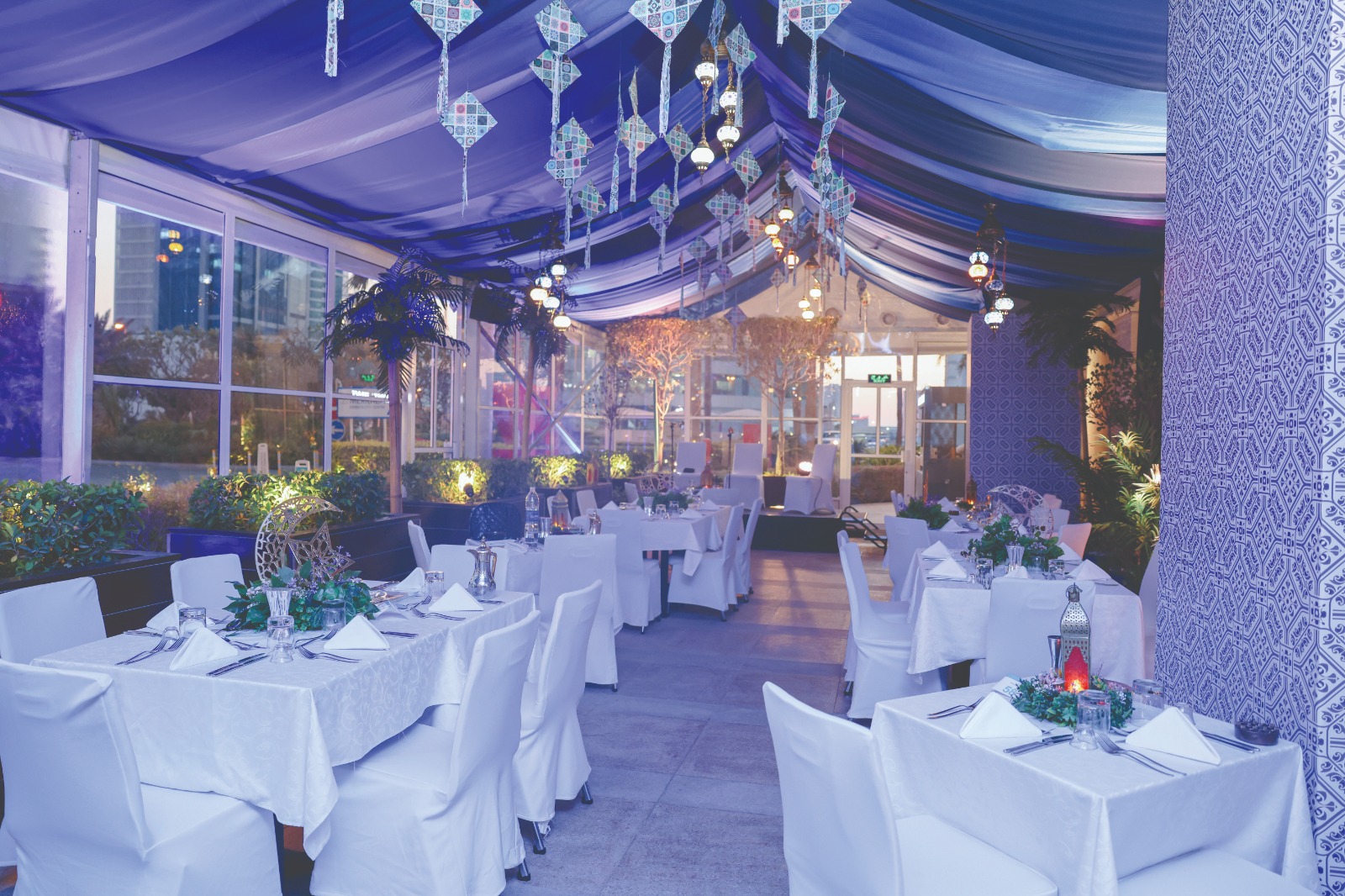 The vegetables were soft and combined nicely with labneh for a fresh and creamy bite. Baharat has a Turkish oven and they make the most delightful pides in the country.
When you visit Baharat, do not forget to order a pide. They have tasty topping combinations such as labneh with zaatar, pepperoni and cheese, labneh with honey, and much more.
I ordered a pepperoni and cheese pide while enjoying my appetisers. Pides cooked in a traditional Turkish oven are irresistible as cooking in high temperatures gives them a striking flavor and texture.
After all, who can say no to freshly baked bread? For the main course, I chose to start with grilled meat. I must say that Baharat has some of the best grilled meats that one can find. They ensure that the softness and juiciness of the meats are maintained during grilling.
I relished chunky lamb chops, meat tikka and shish tawook. They also serve shawarma, tacos and pasta at the live counters.
The shawarma meat was tasty and several add-ins were available for guests to create shawarmas according to their preferences. At the carving counter, they had grilled sirloin, hamour and roast chicken. Hamour was smeared with a delicious paste containing coriander, garlic and chilly prior to grilling.
Hamour is a fish that needs flavour enhancers and this is exactly what the brilliant chefs did.
The fish was tender and the garlic, chilly and coriander paste was the perfect addition. Other dishes on display included traditional lamb ouzi with tender whole lamb and glossy rice. The inclusion of a mixture of split chickpeas, onions that was cooked with spices as a garnish, took the ouzi to a new level.
I was directed to try a Turkish main dish called Hunkar Begendi consisting of lamb cooked in tomato sauce. The lamb was layered over a mixture of mashed eggplant and cheese.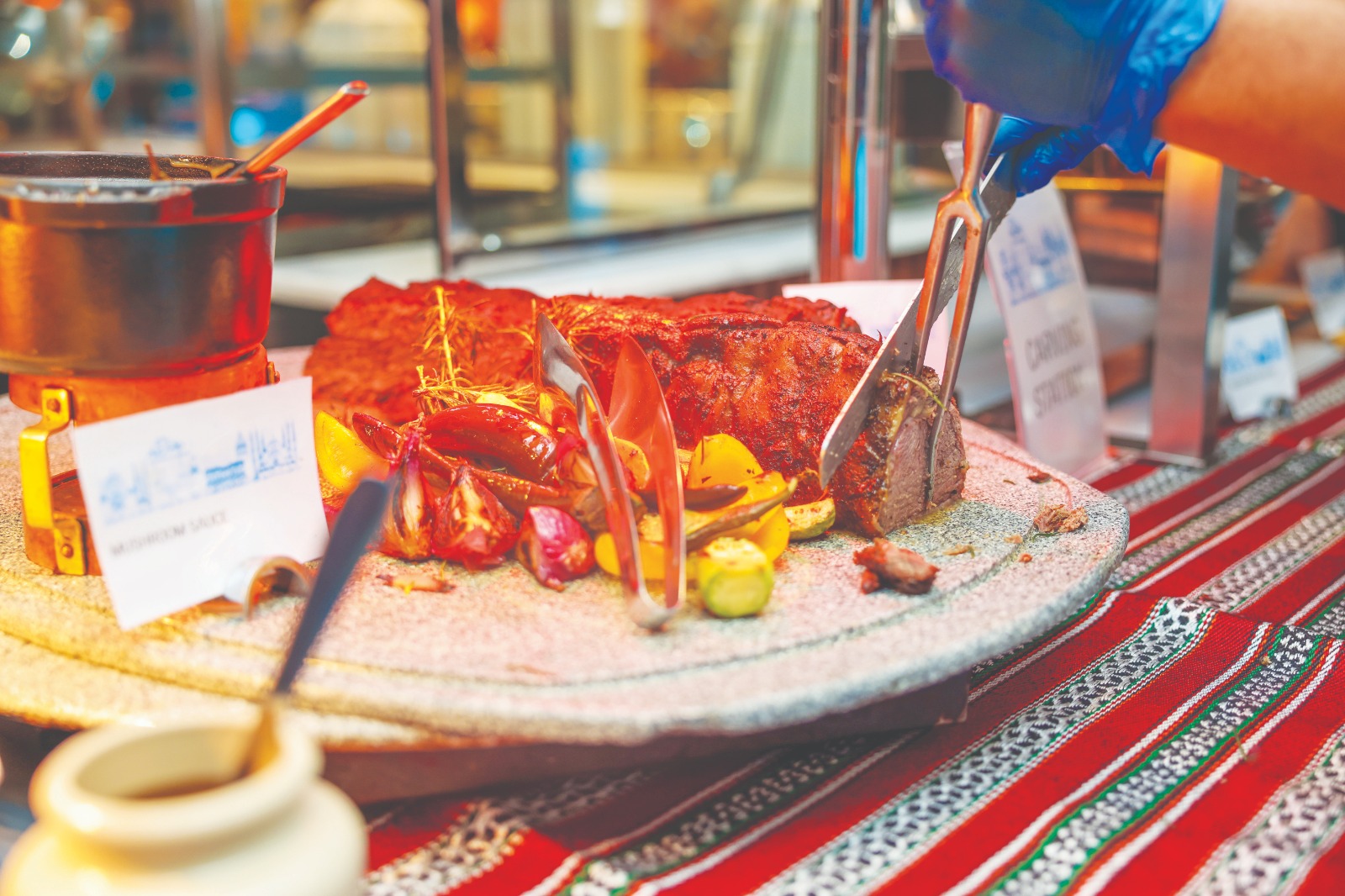 It was very well balanced with the flavour of eggplant shining through the rich tomato and lamb topping. Prawns in green curry was also a hit with many guests plating up more than a single helping.
The dessert spread was as lavish as the other counters. The beautifully displayed desserts were eye-catching.
A vast selection of Arabic sweets such as bakhlava, basboosa, kunafa and umm ali were available. I also spotted other familiar desserts such as sticky toffee pudding, mango mousse, cheesecake, panna cotta and many more. They had Dondurma Turkish ice cream and everyone was ensuring that they got a taste of the slightly chewy vanilla ice cream.
The chew comes from mastic which is a resin that is added to give the ice cream a slightly gummy texture.
I truly enjoyed it just like everyone else. The mango mousse was scrumptious and light with fresh, ripe mango topping. Mango lovers must try this dessert.
If you are looking to spend the evening enjoying a lovely iftar or ghabga with friends or family, visit Baharat to relish tasty Turkish and Arabic cuisine. Their hospitable staff and delectable food will entice you to return.
IFTAR from sunset to 8:30 pm
BHD 21.5 net for adults, BHD 10 net for kids 6 to 12 years and kids below 6 years dine for free
GHABGA for BHD 14.5 net for adults, served from 9:00 pm to 2:00 am
For more information or to make a reservation, please WhatsApp +973 3888 5862.