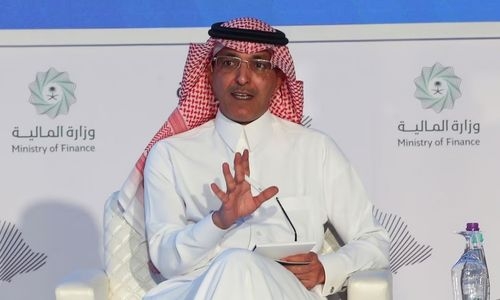 Saudi finance minister says China 'very important', US 'strategic partner'
Agencies | Riyadh
The Daily Tribune – www.newsofbahrain.com
Saudi Arabia's finance minister said on Wednesday that China "is very important for Saudi" and its largest trade partner, "but also the US is a very important and strategic partner".
"Our aim is really to bridge the divide, our aim is to be a force of communication and we are encouraging communication, whether it is China, the U.S. or others," Mohammed al-Jadaan said, speaking at the World Economic Forum in Davos.
"We are playing our part and you can count on Saudi Arabia to continue playing that part," he said.
Separately, Saudi Arabia's ambassador to the United States said that maintaining the long-standing strategic partnership between Riyadh and Washington was "beyond critically necessary" for global stability.
Yes there was a moment of conflict and disagreement, but that doesn't take away from the fact that we are both strategic allies and we are friends, and this relationship is critical for the world," envoy Princess Reema bint Bandar Al Saud said at a panel at the World Economic Forum in Davos.
While attending a Gulf Arab summit in Riyadh, President Xi Jinping called for oil trade in yuan as Beijing seeks to establish its currency internationally and weaken the U.S. dollar's grip on world trade.
On Tuesday, Jadaan told Bloomberg TV that Saudi Arabia was not ruling out any discussions on how it settles its trade, whether in dollars, euros or the Saudi riyal, if that would help improve global trade.
The Saudi envoy to Washington stressed during the panel the importance of the U.S.-Saudi relationship that has weathered 80 years and said that the two countries have "stood by each other where it counts and where it matters".