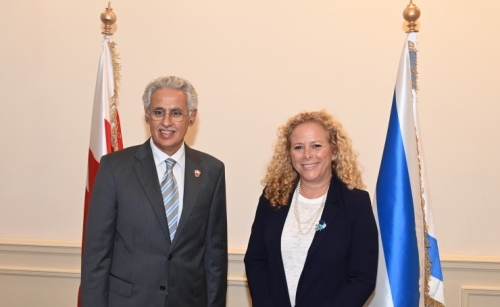 Bahrain kicks off roadshow in Israel, signs two deals
TDT | Manama
The Daily Tribune – www.newsofbahrain.com
Bahrain yesterday kicked off economic events aimed at promoting its investment and development ecosystem in Israel in the presence of Industry and Commerce Minister Zayed R. Alzayani.
The Economic Development Board (EDB) backed events are part of the official visit of Bahrain's economic delegation to Israel. Business leaders and relevant authorities on economics and investment in both countries were present.
Addressing the event, Alzayani praised the outstanding efforts of the EDB, the private sector and economic events in promoting economic development trends and Bahrain as an important investment destination and strategic business location throughout the region.
The promotional programmes included a seminar on high-tech industry trends for the Israeli business ecosystem and an introduction and overview of investment opportunities in Bahrain presented by the EDB in cooperation with the Israel Manufacturing Association, the Export Institute and the Chamber of Commerce.
They also featured a presentation on investment opportunities in Bahrain for Israeli companies by the EDB, a presentation on business paths (financial services, healthcare, technology, information, communications, and logistics), an in-depth look at Bahrain's value propositions and the signing of MOUs between the two sides.
Earlier, during a meeting with the Vice-President of the Federation of Israeli Chambers of Commerce Amir Shani, the minister stressed the importance of economic development in Bahraini-Israeli relations, which enhances investment cooperation opportunities between the two sides.
Separately, Bahrain and Israel signed two deals - one between Bahrain FinTech Bay and Israel Finch Centre and another between Export Bahrain and International Cooperation Institute.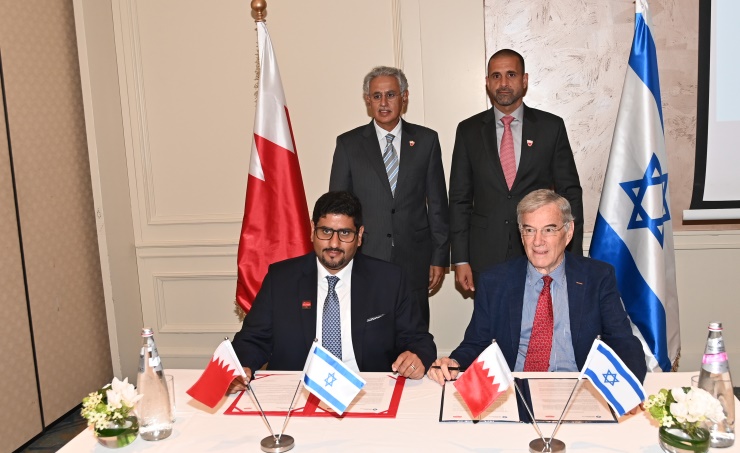 BFB, IFC deal
BFB's deal with IFC was for the advancement of the regional fintech industry and to play a constructive role in the Financial Innovation for Longevity Forum (FIAL Forum).
The MoU in Tel Aviv was in the presence of Alzayani, Bahrain's Ambassador to Israel, Khaled Yousef Al Jalahma, CEO of Bahrain FinTech Bay Bader Sater, and President of The Israel Fintech Centre, Shmuel Ben-Tovim.
"Our cross-border collaboration will provide cutting-edge solutions to SMEs and streamline interactions between Bahraini and Israeli financial institutions," Bader Sater said. "We look forward to strengthening our synergies and exchanging best practices on regulation and the latest developments across numerous emerging technologies, including Open Banking, Blockchain, and payments, among others."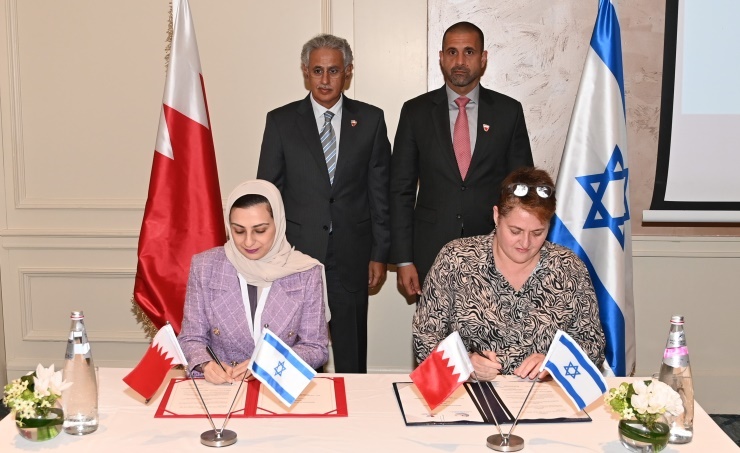 Export Bahrain, IEICI MoU
Export Bahrain's deal, signed by Safa Sharif Abdulkhaliq, CEO of Export Bahrain, and Nili Shalev, CEO of IEICI, was for the development of bilateral commercial exchange and trade collaboration. Under this agreement, Export Bahrain and IEICI will be the facilitators for commercial and economic contracts, acting as the gateway between businesses in both Bahrain and Israel, allowing for new international ventures to flourish through cooperation in a prosperous and dynamic commercial environment.
"Export Bahrain are proud to be at the centre of this strategic partnership to bring together export businesses across Israel and Bahrain," Safa Sharif said.