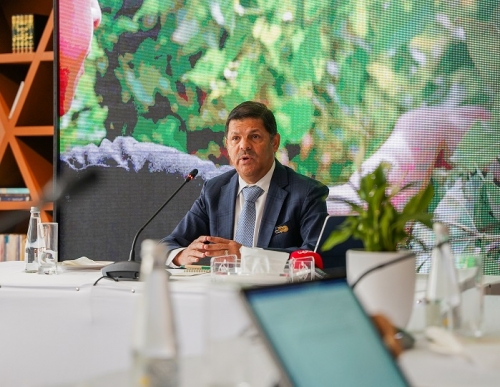 BBK announces Sustainability Report 2021
TDT | Manama
The Daily Tribune – www.newsofbahrain.com
BBK, Bahrain's pioneer in retail and commercial banking, has been actively involved in improving sustainability with respect to Environmental, Social, and Governance principles across every part of its business. Demonstrating an ongoing commitment to achieving its ESG objectives, BBK is proud to announce the release of its Sustainability Report 2021, coming just a year after the launch of its sustainability framework.
This very well-defined sustainability framework allows BBK to focus and prioritise its efforts around the four pillars: good corporate governance, responsible and responsive employer, long-term positive customer relationships and experiences, and social responsibility mindset. Within the four pillars exist eight themes covering fifteen key issues.
Dr. AbdulRahman Saif, BBK's Group Chief Executive said, "As the region's premier financial group, we are encouraged by our achievements thus far. The statistics and success stories outlined in this report offer ample evidence to support this.We are guided by the mission to serve our community and deliver products and services that enrich people's lives and do not harm the environment. With our Sustainability Report, we consolidate our intention to embed sustainability at the core of BBK's mission, continue to build upon its far-reaching benefits for our people and to remain future-ready for generations to come."
While BBK's commitment towards Bahrain Vision 2030 and the goals of propelling the Kingdom towards sustainability remains unshakeable, it has further aligned its priorities with the United Nations Sustainable Development Goals (SDGs), a set of 17 goals that have been defined with an aim to end poverty, fight inequality and tackle climate change among others. Additionally, BBK confirms to being fully committed in supporting Bahrain's leadership to achieve the most recent clean energy adoption goal towards net-zero emissions by 2060.
The success stories and achievements in this report reflect on BBK's ESG priorities as well as those aligned with the United Nations SDGs which will continue to remain a guiding force in charting the course of its journey to sustainability.
This inaugural report gives insights into the Bank's progress in implementing various initiatives based on outlined KPIs aimed at building a better life for every Bahraini resident and ultimately creating a more sustainable world.
2021 saw a lot of ground being covered with respect to initiatives and success stories, prominent among them being the fact that 40.4% of the BBK workforce is female. BBK plans to ensure growth in this area as also encourage women to take up senior positions by introducing new career development programmes for female executives.
With respect to customer service, BBK's customer complaint response rate is currently at 1.4 days, significantly less than the CBB requirement. Moreover, in terms of offering alternative channels to allow customers to conduct their banking transactions without having to visit a branch, BBK is proud that 78% of all its transactions in 2021 were conducted via e-channels.
As an example, BBK's commitment to the UN Sustainable Development Goals focused on renewable energy and environment is evident in its unique pre-packaged loan for solar panels being offered to Retail and Corporate clients.
Moving forward, BBK intends to deepen its commitment in the fields of education, environment, financial inclusion, and women empowerment as well as health.
With decisive and timely action, and the support of customers, employees, shareholders and investors, government and regulators, suppliers, and the communities, BBK is keen to remain at the forefront of all matters related to sustainability and the Sustainability Report 2021 is just one of the first steps in this direction.